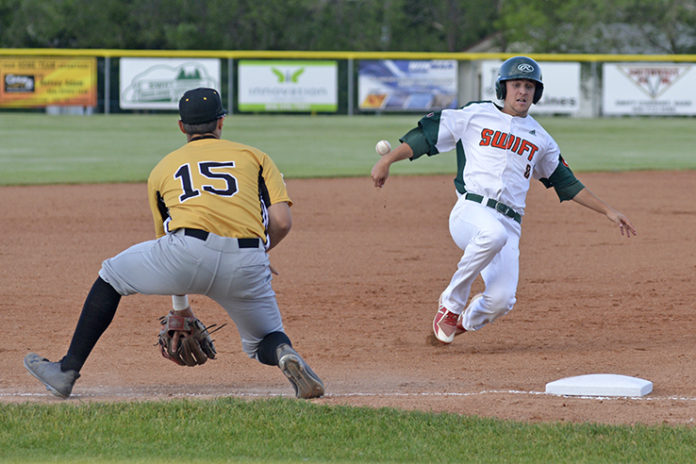 The Swift Current 57's took advantage of four errors to defeat the visiting Edmonton Prospects 12-2 in a rematch of last year's Western Major Baseball League championship series.
The top three batters in the 57's line-up combined for nine hits, seven runs, and four runs batted in.
Ethan Hunter scored on an error in the third inning of the first run of the game. Will Baker scored on a wild pitch in the fifth inning to double the lead.
The 57's combined four hits with three errors to score four runs in the sixth inning to break the game open. Baker had the only RBI when he singled home Myles Miller, who had reached on an error.
The 57's added two runs in the seventh inning when Ben Komonosky doubled home Hunter and McClintock.
The Prospects got on the board with two runs in the bottom of the eighth inning.
The 57's responded with another three runs in the eighth inning when Hunter singled home Baker and McClintock doubled home two more runs and then Miller hit a sacrifice fly to score Hunter.
Carter Buuck got the win after holding the Prospects to six hits and two runs with no walks while striking out eight over 7.1 innings.
Michael Gahan took the loss after allowing eight hits, one walk, and six runs, only three that were earned, over six innings.
The 57's improved to 8-9, while Edmonton dropped to 9-6.
The 57's are back at home Wednesday against the WMBL leading Weyburn Beavers.