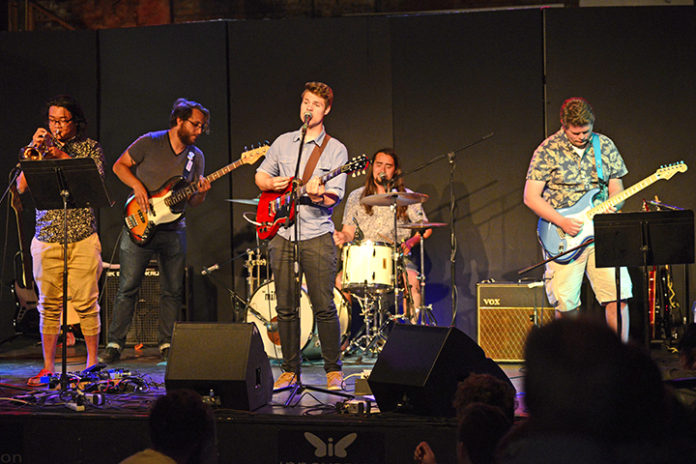 With a cross-Canada tour winding down, Bears in Hazenmore are now gearing up for a hometown concert on Friday night to promote the pending release of their first ever full-length album.
Bears in Hazenmore (Dana Rempel, Brady Frank, Darnell Stewart, Dalton Lam, Tanner Wilhelm Hale) will be on the Lyric Theatre stage on June 8 to promote their new project, Atlas, which will be released on June 15.
"This is the big homecoming show! We haven't played in Swift Current in a long time," admitted guitarist Darnell Stewart. "The way we think about it as a band is this is our homecoming show and party," he said.
While they were last on a Swift Current stage headlining at an EP release show for Airwaves in 2015, they now boast an evolved sound on their newest recording.
"I think this release is our most powerful recording so far," Stewart admitted of the 10 track album.
Atlas was recorded in April 2017 by Justin Bender at Blue Door Recording, while the mixing and mastering was handled by Regina's Rob Morrison, who has worked with bands such as Close Talker and Rah Rah.
"Getting to work with them has been really helpful. I think they've kind of elevated our expectations in a way, and the quality of the recording is really strong."
"I think this album might be able to make a pretty strong case that says hey 'we're a Saskatchewan band and we want you to hear it.'"
The debut single In Your Head is a slight detour from their traditional ambient alternative rock sound, boasting a more pop sound.
"I would totally agree, it is a little poppier than some of the stuff that we've released previous. And that's was an honest intent for it to sound that way. And there's a few other ones that are on the album that are similar."
This past week they released a fun video for their song Wedding Season.
"We just had a music video come out on a blog in Toronto. We filmed this music video for Wedding Season in a house in Calgary just last week. We did it all ourselves on our iPhones."
"Dalton, our trumpet player, he really loves eggs. He really loves them. So we shot this video of him cooking and serving eggs. And it has nothing to do with the song. It's just a fun thing that kind of shows that even through we tend to write pretty serious music in a lot of ways, but we're such goof balls. It's good for us to get that side of our personality out there as well."
While focusing on this new album, they embarked on an 11 date Eastern Canadian tour from April 24 to May 14. To complete their cross Canada tour, they are now making their way back from a Western tour through British Columbia and Alberta, with Swift Current being the tenth of 12 shows in Western Canada.
"This is our first time on our own coast-to-coast as Bears," Stewart said. "It's really special to be able to take six weeks and see one ocean and then just a few weeks later to be on the other one."
Bears in Hazenmore are refocussing on this solo project after enjoying success on a project with Megan Nash. Nash's album Seeker was rated at the top album of SaskMusic's Top 10 list of Best Saskatchewan Albums of 2017, and Bears in Hazenmore backed Nash on this critically acclaimed release. They also toured with Nash for parts of the past two years.
"She has been really supportive of our band. She welcomed us to record her album Seeker with her in Regina last year," Stewart said. "She is kind of on the up and up right now. She's been touring in Europe…so she's getting her name out there."
Nash's influence did not specifically effect the Bears in Hazenmore sound too much, because their album was recorded and their musical ideas came previous to working with her.
"But if we continue to work with her, I wouldn't be surprised if we started to incorporate more elements of her sound into our own music."