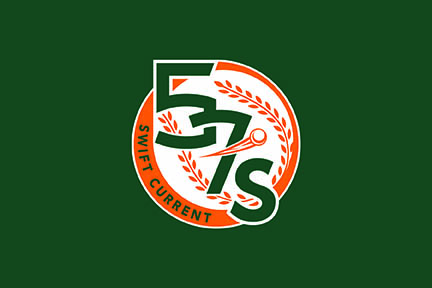 Last summer right-handed pitcher Aaron Pugh was hurling fastballs at opponents sometimes nearly three times his age. This summer he will be face an entirely different level of competition in a respected wood bat collegiate league when he takes the mound for the Swift Current 57's in the Western Major Baseball League.
The Boissevain, MB native recently completed his sophomore season with the University of Jamestown Jimmies in North Dakota.
"Joe [Carnahan] ended up contacting our coach and coach gave him my name and said he's not doing much this summer, doesn't really have anywhere to go. I talked to Joe for a couple weeks and ended up signing," explained the 6'0'' pitcher.
His college team finished with a 45-11 overall record this season.
"The college season went pretty good last year. Didn't get the innings I wanted, but as a sophomore on a college team you don't get a lot of innings in so you kind of take what you can get. I didn't make post-season because in the post-season we cut five guys off our roster and I happened to be one of those guys. The team went to the national qualifiers, lost in the finals by three runs to go to Nationals. It was a good team and a good season."
Pugh spent last summer at home in Manitoba where the only competition was in a senior mens league.
"Yeah and another thing coming here is just more of that college level competition. So getting innings here is going to be relatable to getting innings down there instead of back home where I might get more innings but I am throwing against guys that are in their sixties and don't quite hit the same as these guys do. Came here for innings and came here for a good time," he explained.
Pugh said his fastball generally sits at about 84-85 miles per hour. His arsenal includes a fastball, curveball, slider, and change-up.
Pugh hails from a community of 1,500 people. He said he has driven through Swift Current once or twice in his lifetime.
"It's nice. It's not too big, not too small. It's just kind of seems more like a big town more than a small city kind of atmosphere. I think I am going to like it."
The 57's will open the WMBL regular season on Thursday against the visiting Weyburn Beavers.
"It is going to be good," said Pugh as he looked towards Thursday's season opener. "It's going to be fun getting back to it. It's been a couple weeks since I've been in a game so just getting that atmosphere and getting back in that groove is going to be great."
The 57's are the two-time defending league champions.
"I am expecting a good season. I mean they won it the last two years so there's lots of skill and they know what they're doing to get to the post-season, so hopefully try and repeat that again."