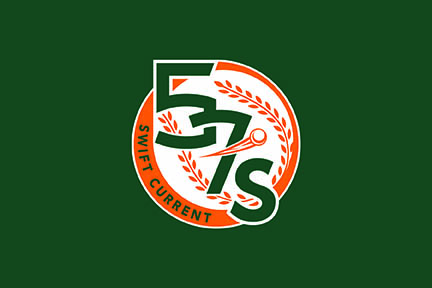 Dauson Tate simply looks and talks like a baseball player. The Pueblo West, Colorado product was amongst the first members of the Swift Current 57's to arrive in Swift Current and is eagerly anticipating the opportunity to play under the lights of Mitchell Field and help the 57's chase a third straight Western Major Baseball League title.
He has played catcher and third base at Dodge City Community College in Kansas for the past two seasons. Tate caught the eye of former 57's assistant coach Eric Dorton last season at a series between his Dodge City Conquistadors and Dorton's Cloud County College T-Birds.
"I had a very good series. I hit five home runs on the weekend, four on the first day," explained Tate. "Obviously the assistant coach is watching me right there, so he asked me to come out last year. But I had already committed to a team last year, so I told him to give it the year and I'll come back this next year. Here I am."
Tate just finished his sophomore season with the Conquistadors.
"My freshman year I definitely played a lot better than I was expecting to. I hit .360 with 10 home runs, a couple RBI's here and there. I was lucky enough to make Honourable Mention All-Conference last year," he explained.
This past season, Tate hit .307 with five home runs, 10 doubles and 43 RBI in 54 games started and was named to the Kansas Jayhawks Community College Conference All-Conference Second-Team.
Tate recently signed with Longwood University, a Division I program in Virginia where he will major in marketing with a minor in sports management.
Tate said that his college team played in front of about 40 fans, most of whom were family.
"Playing in front of the people, that's going to be really nice. I heard you guys get pretty good crowds out here. I am very excited to play out in front of everybody. All the night games, it's been a while since I have played a game under the lights. It's going to be really fun."
Tate will be spending the summer over 1,000 miles away from home.
"Well I'm still getting used to the metric system here," he laughed. "It's a nice town. It's going to take me little to get used to the roads and all that kind of stuff, get a normal route to the field. I think I am going to like it a lot."
He said he jumped at the opportunity to head north of the border to suit up for the 57's this season.
"The way I see it I only have a couple more years before I have to settle down and get an 'actual job' and that. I might as well take the time to see some of the world. When Eric offered me this spot I would have been stupid not to take it to go experience something in a different country."
His college team finished with a 31-25 record and Tate is looking forward to having another winning season with the 57's.
"They've won the championship the last two years, so obviously this is a program that shows they're a winning team. I am very excited to get out and see what coach [Joe] Carnahan has. With coach Bodie [Cooper] being his first season I am excited to see what he is going to bring to the table."