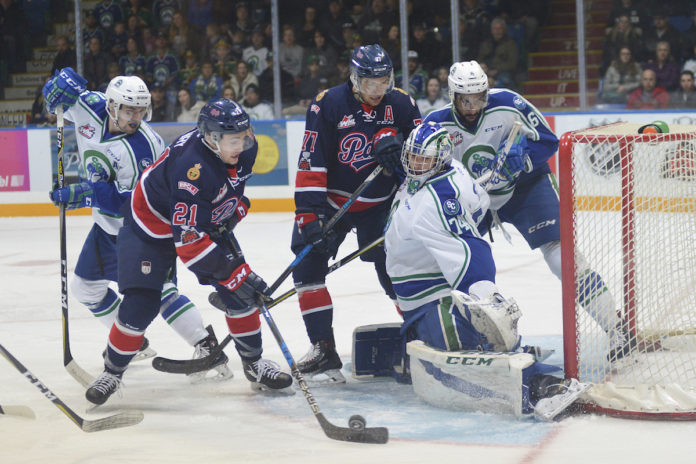 The Swift Current Broncos will put their season on the line on Wednesday and it will be a familiar foe standing in their way at the 100th edition of the Mastercard Memorial Cup in Regina.
The Broncos and host Regina Pats will meet for a 14th time this season with the Broncos needing a win to remain alive after losing their opening two games by one-goal margins.
"We see Regina a lot throughout the regular season," said Broncos forward Beck Malenstyn. "We obviously played them nine times in a row there ending off the regular season and throughout the playoffs. There's a built in rivalry there. I think it's going to be a good game. You know what, considering they had lots of time off they've played good hockey in the past two games as well. I think we're really worried about playing our full 60 minutes, finding the tweaks that we need to make in our game and making those adjustments and I think we are going to be just fine."
The Broncos finished with a 5-0-1-0 record in the regular season against the Pats, but most of those games were played prior to the WHL trade deadline. The two teams met for the final two games of the regular season before the Broncos eliminated the Pats in game seven of the opening round of the Western Hockey League playoff on April 2.
"Regina's playing well," said defenseman Colby Sissons. "They're well rested. They're going to be coming at us strong. We know them very well over the last few years and the rivalry, if you can't be up for this one you're in the wrong place."
"That rivalry's only going to be enhanced in this game," added Malenstyn. "We have to be excited for that. It's not very often you get to play that type of hockey with that much energy involved. I think controlling emotions is going to be huge for both sides, that's something I thought we did really well throughout all four rounds of our playoffs. I don't think we have anything to worry about there. It's going to be a high energy game. It shouldn't be hard at all to get up for it. I think we're going to find that energy, we're going to find that juice that maybe we've been missing in these last two games and really come after them."
Wednesday will mark the third time the Broncos have played with their season on the line after previous game sevens against the Pats and Moose Jaw Warriors in the first and second rounds of the playoffs.
"Well obviously it's not a situation you want to be in, but we've had a couple game sevens in the post-season there," said defenseman Josh Anderson. "We know how to handle certain things, but there's never facing elimination in the Memorial Cup, so it's something new for everyone."
The Pats have a 1-1 record at the Memorial Cup after defeating Hamilton to open the tournament before losing a wild contest to the Acadie-Bathurst Titan.
"They're a real good hockey team," said Broncos head coach Manny Viveiros. "They're very capable of winning this thing also, everybody in this tournament is capable of winning this tournament. We know that we've got to somehow raise our level to be able to have a chance to win."
"Yeah backs are against the wall," admitted Malenstyn. "It's a game seven for us. We know that we have to win that hockey game if we want a chance to win this tournament. That's what we came here to do. All three teams that won their championships are going to be proud, excited, you can't take that away from us, but we will be sour if we don't come out with a win here. So I think we're definitely looking to put forward a full 60 minutes, play our type of hockey, and I think if we do that we are going to come out with a good result."