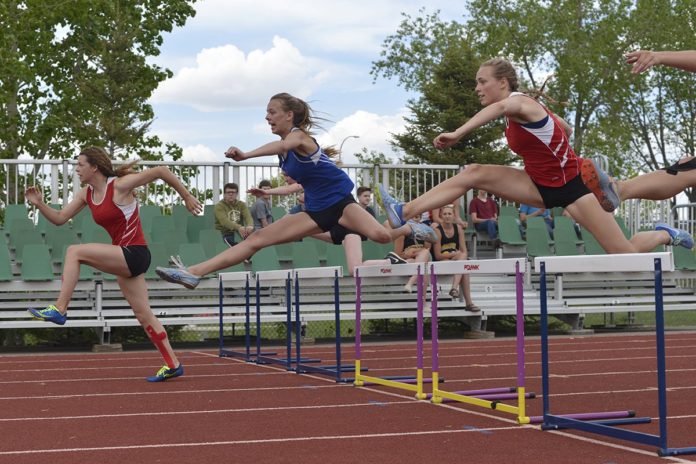 The top athletes from across the Southwest were in Swift Current on Wednesday for the District track and field meet. The top two athletes in each event in the Midget, Junior, and Senior categories advanced to Provincials.
Bantam athletes were also in action at the District meet and concluded with two rural champions in the aggregate standings. Vanguard's Elijah Nicholas won the Bantam Boys Division with 26 points, while Frontier's Myra Halderman topped the Bantam Girls standings with 30 points.
Swift Current Comp. athletes ran their way to five of the six aggregate titles in the Midget, Junior, and Senior standings. Ashley McDonald won all four of her events to win the Midget Girls Division with 40 points. Teammate Rhett Vavra duplicated the feat with 40 points to win the Midget Boys Division.
The Colts' Scott Joseph continued his dominating season with 40 points to top the Junior Boys Division. Teammate Maddy McCleary won the Junior Girls title with 38 points.
The Ardens' Kalea Sauder won the fifth championship for the host team when she compiled 38 points to top the Senior Girls Division.
Shaunavon's Tye Tremere picked up a win in the Senior Boys Division for the Shadows with 26 points.
The Gull Lake Lions had a strong showing in the Quadathlon during the district meet, winning three of the five titles.
The Gull Lake tandem of Sadie Keller and Ayden Lemarre won both the Bantam events. Lemarre topped the boys quad with 1,799 points, while Keller topped the girls quad with 1,422 points.
Gull Lake's Zack Sumner won the Junior Boys Quad with 1,543 points. Swift Current's Tiana Knight came out on top of the Junior Girls Quad with 1,608 points.
Shaunavon's Nixon Voll topped the Senior Boys Quad with 2,395 points to return to Provincials.
The SHSAA Provincial Track and Field Championship will be held on June 1-2 in Prince Albert.