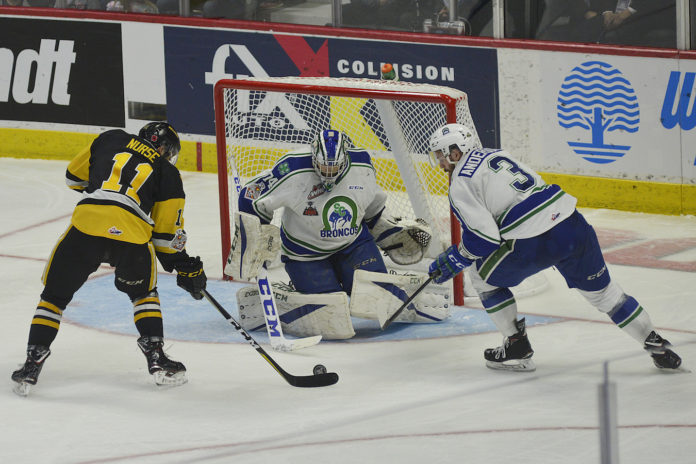 The Swift Current Broncos got 54 saves from Stuart Skinner but still fell to 0-2 in a 2-1 loss to the Hamilton Bulldogs on Monday at the 100th edition of the Mastercard Memorial Cup in Regina.
The Broncos were outshot 56-22 but still had ample scoring opportunities to win the game or at least force overtime.
"Hamilton was just so much quicker than us tonight," said Broncos head coach Manny Viveiros. "They played faster. They won the puck battles, they got out of the zone real quick. Hamilton played a really good hockey game tonight, a real good game tonight. We were just a step behind tonight."
The Broncos were fortunate to escape the first period trailing 1-0 after Stuart Skinner made 21 saves and the Broncos managed only four shots on goal.
The Bulldogs had the first good chance when MacKenzie Entwistle wired a puck off the crossbar in the second minute.
The Broncos took two straight penalties and killed off 1:33 of two-man shorthanded play before Entwistle knocked home a rebound with four seconds left on the second penalty for the opening goal.
"I think if we get that five-on-three it gives us a little bit of life," said Colby Sissons. "They score late on the five-on-four, like I said we get that and maybe we get some life off it, but they just got a lot of outside shots on it and they got some momentum off of it."
The Broncos came to life in the second period and tied the game when Colby Sissons snapped home a power play goal with a screened point shot midway through the period.
The game nearly turned during a four-on-four phase midway through the third period. Giorgio Estephan nearly scored on one end for the Broncos before the Bulldogs had a breakaway and hit two posts in one shift at the other end but neither team could take the lead.
The Bulldogs continued to dominate the period but Skinner was equal to most of the tests. The Broncos nearly took the lead with three minutes left when Glenn Gawdin was turned around from in tight. The Bulldogs turned around and Marian Studenic one-timed home a shot from a bad angle to take the lead for good.
Skinner took the loss with 54 saves, while Kaden Fulcher earned the win with 20 saves as Hamilton improved to 1-1.
"Stu, he's been our rock all playoffs here and leading up to playoffs in the regular season as well," said defenseman Josh Anderson. "But we didn't do any damage or anything up front to help him out."
"I think for a 60 minute hockey game we need to be a lot better," said Beck Malenstyn. "Like you said, Stuart was phenomenal, our best player by far. There's a lot of things we've got to tighten up right now. The last two games haven't been us as a hockey team. I think we know that in that room. There's a lot of things we can do better. We know we can do better. We are looking forward to being able to turn the page here and have another whack at this thing and put a good effort forward for 60 minutes. I think right now we are not worried about winning and losing, it's putting a full 60-minute effort out there and let the chips fall where they will. I think we are going to be pretty happy with the results if we do that."
"It just comes down to what we did out there. We didn't execute our systems. We didn't play a full 60 minutes," added Anderson.
The Broncos will now gear up for a Wednesday showdown against the Regina Pats (1-1), who they eliminated in the first round of the Western Hockey League playoffs on April 2.