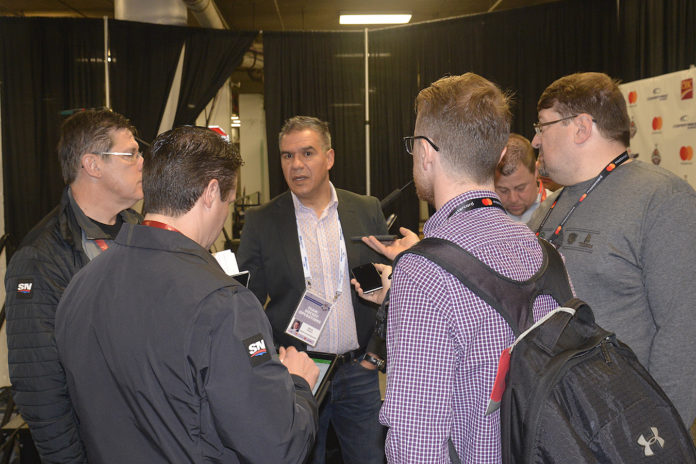 The Swift Current Broncos will be looking for their first win at the 2018 Mastercard Memorial Cup tonight when they face the Ontario Hockey League champion Hamilton Bulldogs.
The Bulldogs lost their tournament opener 3-2 to the Regina Pats on Friday, while the Broncos fell 4-3 in overtime to the Acadie-Bathurst Titan the following day.
"They are going to be good," said Broncos head coach Manny Viveiros of the Bulldogs. "They are urgent and desperate just like us. We've got to win, one of us has got to win. So both teams are going to have that intensity, that pressure, and we've got to be at our best."
Viveiros said no additional motivation would be needed tonight.
"We've got to win, Hamilton's got to win. They know what it's like, at this time of year you've got to win."
The Broncos trailed early against Acadie-Bathurst, but then surrendered two separate leads before losing in overtime two days ago.
Defenseman Sahvan Khaira sat out the opener due to illness, while Tyler Steenbergen left the game due to injury and did not return. Viveiros said Khaira would return to the line-up tonight, while Steenbergen was a game time decision.
Viveiros thought his team looked more comfortable today.
"Our kids are much better today than we were the day before on game day. I noticed that we're kind of relaxed, our kids' feet are really on the ground now. We're in the tournament, we seen what it's like, what it's all about."
Hamilton head coach John Gruden said his team hoped to play hard and fast against the Broncos.
"We've got to play fast and we've got to play physical and that's what we do also too," countered Viveiros. "Not just speed-wise, as far as skating, but play fast. We are talking about getting the puck off our stick as quick as possible from our D to our forwards. Hamilton does that very well, get pucks off their D sticks to their forwards and let them do the work. We are very similar also too, we want that puck to be moving the other direction as quick as possible."
The Broncos and Bulldogs will face-off at 6 p.m. at the Brandt Centre in Regina. The Broncos will conclude the round robin on Wednesday against the host Regina Pats.