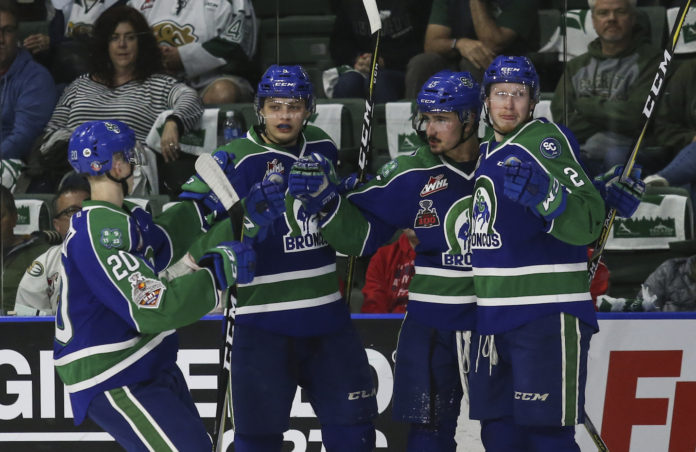 Captain Glenn Gawdin scored only 2:40 into overtime to complete his hat trick and lift the Swift Current Broncos to a 3-2 win over the host Everett Silvertips on Tuesday.
The Broncos took a 2-1 lead in the 2018 Rogers Western Hockey League Championship Final with their second straight overtime win. The Broncos are now 4-2 in overtime in the playoffs and have won their last three overtime contests.
"It feels good," said Gawdin of the overtime winner. "I'm happy we got the win, but we need two more."
The Broncos had earned their first lead of the series when Gawdin scored 5:16 into regulation. The Silvertips replied one minute later with a Riley Sutter goal and then Matt Fonteyne scored with 1:25 left in the opening period for a 2-1 Everett lead.
After a scoreless middle stanza, Gawdin dove to knock home his own rebound while shorthanded with 3:17 remaining in regulation to force overtime.
Stuart Skinner, fresh off WHL and CHL Goaltender of the Week honours, got the win with 37 saves to improve to 14-7-2 in the post-season. Carter Hart took the loss with 29 saves.
"I have a lot of faith in my teammates too that if I shut the door the rest of the game that they're going to pop a couple in," said Skinner. "My job is just to give my team a chance to win. I'm really grateful that it worked both nights."
"I'm certainly pleased, there's no question about it. I thought tonight was a game that I thought it was our best game of the series the way we played," said Broncos head coach Manny Viveiros. "We played real fast and we got in on the forecheck and I thought we did a lot of good things. Everett played well too, there's no question about it. They played very well also too. Goaltending on both sides were really good again tonight. We are certainly pleased with the win. It's a fine line right now as far as winning and losing. We're just fortunate that we're getting that extra goal at the right time."
Gawdin leads the Broncos with 29 points in 21 playoff games after registering 125 points in the regular season.
"He was okay. He was okay," joked Viveiros about Gawdin, who was seated next to him at the post-game press conference. "He's been our guy all year, you know, throughout the whole season at different times he's always stepped up for us, so that's what we expect from him."
"For me it's trying to get it off quick," said Gawdin when asked about beating Hart with clean looks. "Like you said, he's a good goalie, doesn't get beat too often. I think just great plays from my linemates and teammates. They've got to respect them and they made good feeds to me. Like I said, just trying to get it off quick."
Game four of the best-of-seven series will be Wednesday in Everett.