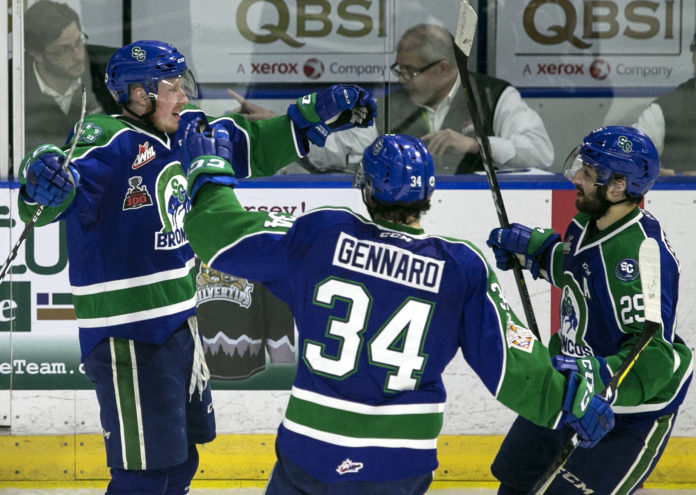 Stuart Skinner made 32 saves and Colby Sissons scored the only goal as the Swift Current Broncos defeated the host Everett Silvertips 1-0 for their third straight win in the 2018 Rogers Western Hockey League Championship Final.
The Broncos took a commanding 3-1 lead in the best-of-seven series with the win, led by Skinner's fifth shutout of the playoffs.
Sissons fired home his fifth goal of the playoffs on a power play rush in the second period.
"A little bit of a broken play in the neutral zone I think from what I remember," explained Sissons. "Just a three-on-two. I had some space in the middle. Then just tried to get the puck on net and luckily it went in."
The Broncos finished one-for-four on the power play and held the Silvertips without a goal on five man-advantages.
"We're certainly, obviously pleased with the win, there's no question about it," said head coach Manny Viveiros. "It was certainly difficult like every other game we played so far in this series that's come right down to the very end again. We got into some penalty trouble in the second period, which we discussed, which was unnecessary from our side. I thought we were a little bit undisciplined in some of those areas. But I was really happy the way we responded after we got out of the penalty trouble. We started playing again and in the third period I thought we played really well defensively. Again Everett was good, they were good. They played real well and we're just happy and fortunate that we were able to get the win."
"First of all, I am really happy with the way my team played in front of me," said Skinner. "Obviously our PK was really strong tonight, especially in the second period when they got a couple good opportunities and we were able to stay strong."
The Silvertips scored on their first power play of the series, but the Broncos have now held them without a goal on 13 opportunities since.
"The kids are doing exactly what we are supposed to be doing on the penalty kill and we're working hard," said Viveiros. "We're blocking shots. Like I've always said, usually our best penalty killer is the goaltender and Stu's been really good. But we've been doing the things we want to be doing. We want to be aggressive on loose pucks. But the kids are digging in. Again, we don't want to be taking too many penalties at this time of year, we can't. We end up running with a short bench after that and the kids get tired after a while like that too. Again we'e talked about it, those are the type of penalties that we could avoid and that's something that we have to clean up certainly for Friday."
Game five of the best-of-seven series will be Friday in Everett as the Broncos look to lock up their first Memorial Cup appearance since 1993.