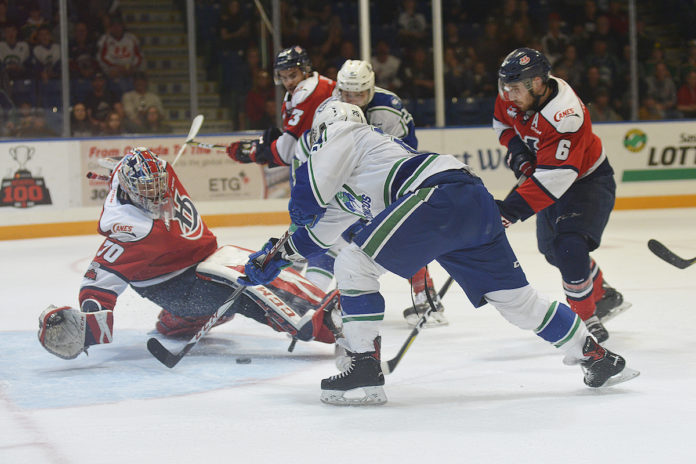 The Swift Current Broncos used home-ice advantage to pull within one win of the Western Hockey League championship series when they defeated the visiting Lethbridge Hurricanes 4-3 on Saturday.
The home team has now won all five games in the best-of-seven Eastern Conference final as the Broncos lead three games to two heading back to Lethbridge. Giorgio Estephan notched the eventual game winner during a three-point outing against his former team.
"I thought we played with a lot more energy and urgency and that in our game," said Broncos head coach Manny Viveiros. "I thought we had a lot more structure in our game also too, which was important for us too. I thought Lethbridge played very well again too. We don't ever seem to do anything easy by any means. But they keep hanging around, hanging around. Flodell played, I thought he made some really big saves for them at key times to keep them in the hockey game. I thought we had some pretty scoring opportunities. From our side I thought that was our best game so far."
After a scoreless first period, the two teams engaged in a wild second period as the Broncos earned a 2-1 lead. Max Patterson shoveled home a rebound with 6:48 left in the period for his fifth goal as the fourth line got the Broncos on the board.
The Hurricanes tied it up 5:33 later when Zane Franklin notched his second of the post-season. After the goal Tate Olson attacked Matteo Gennaro and only received a minor penalty for roughing despite a blatant head shot. The Broncos scored just 27 seconds into the ensuing power play when Estephan's shot deflected in.
The Broncos added to the lead 2:37 into the third period when Colby Sissons finally beat Logan Flodell high to the glove side. The Hurricanes pulled back within one goal when Brad Morrison fired a quick shot off a face-off. The goal tied Morrison for the Hurricanes franchise record with Wes Walz with 37 points in the post-season.
The Broncos restored the two-goal lead when Estephan knocked home a Tyler Steenbergen pass for his second goal of the game against his former team.
The Hurricanes scored a power play goal with their goaltender pulled with 1:01 left on the clock when Egor Zudilov roofed a puck from in tight.
"It wasn't our best game obviously," said Hurricanes coach Brent Kisio. "Not taking anything away from Swift Current, I thought they came out, Swift Current outplayed us, they played a tremendous game. They were more physical, worked harder, and deserved the win."
Stuart Skinner earned the win with 26 saves. Logan Flodell took the loss with 28 saves on 32 shots.
The Broncos finished one-for-four on the power play, while the Hurricanes were one-for-three.
The Broncos regrouped after two ugly losses in Lethbridge.
"I was pretty proud of our group," said Estephan, who finished with three points. "We've been battling through the last couple games. How we played in Lethbridge was unacceptable for us. We came out tonight with a real strong effort. It's playoff time and I think we rallied around the crucial games, today was a really big game for us. Keeping home-ice advantage was something that we definitely need and worked all year for. We responded really well today for sure."
The two teams will now have another day off before the series resumes Monday in Lethbridge.