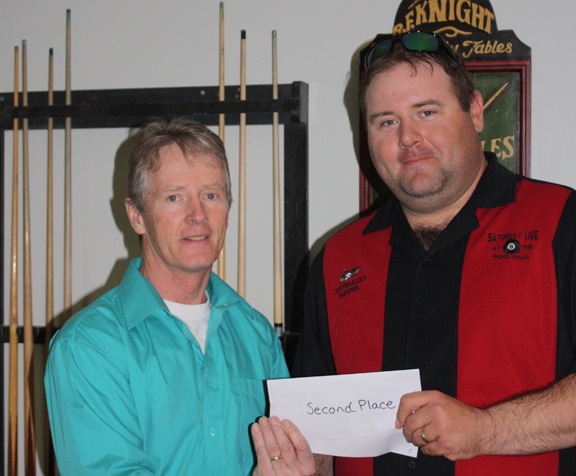 Submitted
Once again the Swift Current Snooker Club, now known as 'The Room,' hosted the Saskatchewan Snooker Championship on April 20-22.
'The Room,' located in the upper lounge of the Stockade building, Kinetic Park was the scene of some serious snooker play as 16 players vied for the coveted Saskatchewan Snooker Champion Trophy. Players from Saskatoon, Regina, Gull Lake and Maple Creek as well as Swift Current took part. Play began Friday evening and went on through to Sunday with a double knockout format.
The final matchup featured Terry Lovestone of Swift Current and Denis Chapado of Regina. Chapado took the championship four to two in a best-of-seven playoff. Cash prizes were paid out to the top four players, first place to Chapado, second place to Lovestone, third place to Warren Munroe of Regina, and fourth place to Swift Current's Joseph Hyde.
High run competition, sponsored by Southwest Paving and Carpet One, was won by Terry Lovestone with a run of seventy-five. Other tournament sponsors were Prairie Gold Premium Bottled Water of Gull Lake who supplied bottled water for the tournament players, Marty Flicek Polled Herefords Ranch, who supplied the beef for the tournament, cash donations from Sushi's Plumbing and Heating and Azaria Foam Solutions were greatly appreciated. Thanks also to Monticello Graphics for supplying the banners and draw board for the tournament.
Huge thank you to all the volunteer help for cooking and tending the concession table throughout the weekend. Big thank you to Annalee Hyde who looked after us throughout the weekend.
Tournament chair Joseph Hyde said, "This tournament would not have been successful without all the volunteer help and hard work of the tournament committee, thank you to all those involved."
A sizeable gallery enjoyed the whole weekend of snooker.
'The Room' has grown over the past few years, with the addition of three more snooker tables, five in total now and four nine foot tables this past year has made this facility one of the best in Saskatchewan.
Terry Lovestone, one of the founding members, said, "We are growing, but we are taking it slow, we want to make sure we do this right. The club is trying out different ideas, we just finished up Thursday nine ball league for the season, this Wednesday we are going to try a ten ball league and see how that goes. We are planning to get our younger generation involved with the game also."