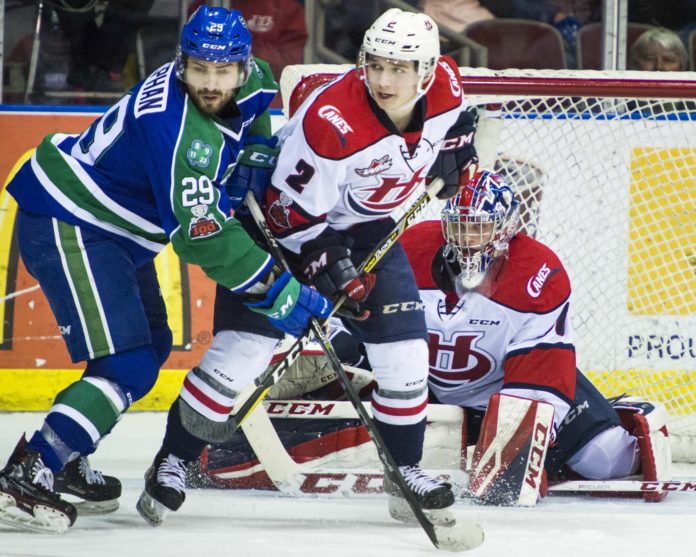 The Swift Current Broncos lost the special teams battle as they fell for a second straight night in Lethbridge on Wednesday.
The Lethbridge Hurricanes defeated the Broncos 5-1 to tie the best of seven Eastern Conference final at two games apiece. Special teams were the difference as the Hurricanes scored four goals on the power play and once while shorthanded. The Broncos finished zero-for-seven on the man-advantage to eliminate any possibility of getting the road win.
The Hurricanes have still not lost in eight playoff outings this season, while the Broncos lost two straight playoff games for the first time this season.
The Broncos played a disastrous opening period as they spent almost half of the frame shorthanded and fell behind 3-1 after 20 minutes.
The Hurricanes opened the scoring 6:28 in when Jadon Joseph knocked home a rebound for a shorthanded goal. Logan Barlage added a goal against his former team right as the first of two penalties against the Broncos expired for a 2-0 lead after Stuart Skinner had made two consecutive highlight-reel glove saves.
Tyler Steenbergen cut the lead in half only 51 seconds later with a perfect shot past the glove of Logan Flodell, his 11th of the post-season.
The Hurricanes restored their three-goal lead with a power play goal late in the period when Taylor Ross knocked home a rebound on the Hurricanes' fifth power play of the frame.
The Hurricanes stretched their lead to 4-1 with 1:28 left in the second period when Calen Addison blasted another power play goal from the point. Addison added his second power play goal 6:57 into the third period.
Skinner took the loss with 23 saves, while Flodell won with 25 saves.
The two teams will now have two days off before the series resumes Saturday in Swift Current.