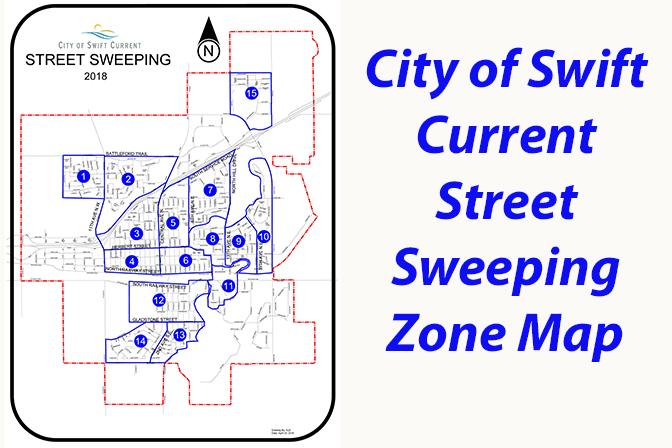 Street sweeping operations got underway in the City of Swift Current earlier today.
The first zone being tackled was Zone Three, located west of Central Ave. N. and north of Herbert St. The remainder of the Residential Street Sweeping Program will continue through to the end of May.
The City of Swift Current's Streets and Roadways Department is hoping for the assistance of city residents over the coming weeks to help make their job easier.
Residents are urged to move their vehicles when notified of sweeping in their area, in order to facilitate the complete curb-to-curb sweeping of their streets. Crews begin as early as 6 a.m. and work through to 5 p.m. daily. When vehicles are not moved off the street, sweepers have to move around the obstruction, leaving debris behind.
Signage is placed in advance in areas scheduled for sweeping operations in order to give residents notice to park their vehicles in an alternate off-street location. Additionally, the city-wide street sweeping schedule is designed around front-street collection of Smart Carts to avoid disruptions in service.
Crews are scheduled to be in Zone 5 on Thursday, April 26 (east of Central Ave. N. and west of 6th Ave. N.E., from Herbert St. to George St.).
Work will continue according to the following schedule:
Zone 4 – Monday, April 30
Zone 6 – Tuesday, May 1
Zone 12 – Wednesday, May 2
Zone 7 – Thursday, May 3
Zone 8 & 11 – Monday, May 7
Zone 14 – Tuesday, May 8
Zone 2 – Wednesday, May 9
Zone 9 – Thursday, May 10
Zone 13 – Monday, May 14
Zone 10 – Tuesday, May 15
Zone 1 & 15 – Wednesday, May 16
In case of rain, the City has set aside May 29 to 31 as dates to complete street sweeping work.
For up-to-date information regarding which zone will be swept next, visit the City's website at www.swiftcurrent.ca/cleanstreets, our visit their Facebook and Twitter pages.