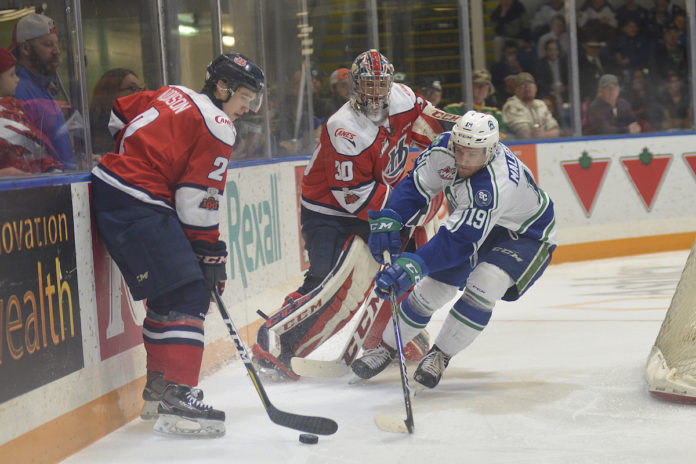 Swift Current Broncos import forward Aleksi Heponiemi picked an opportune time to score his first Western Hockey League playoff goal. The splendid assist man scored with 8:49 remaining in his 29th career playoff game to lift the Broncos to a 3-2 win over the visiting Lethbridge Hurricanes to open the Western Hockey League Eastern Conference championship series after the Hurricanes made a spirited third-period comeback.
"We didn't expect the game to be over after the second period," said Broncos head coach Manny Viveiros. "We knew they were going to make a push and they tied it back up again. But like I said, we've been pretty resilient this year when we have given up leads or we've been behind to get back in the game. I thought Lethbridge was really good tonight, they were really good. They put us on our heels, made us make mistakes. We were fortunate tonight. Stuart Skinner played very well for us. A little bit more puck luck for Lethbridge and they could have easily won the game tonight."
"Obviously the first game is huge to win," said Heponiemi. "But the way we won today wasn't our best game. We got to be way better, but the first game is always huge."
The two teams traded scoring chances during a scoreless opening period as the Hurricanes outshot the Broncos 18-10. The Broncos thought they had scored only 1:05 in but it was ruled that Tanner Nagel had interfered with Lethbridge goaltender Logan Flodell.
Max Patterson opened the scoring 6:15 into the second period when he fired from the slot and beat a down and out Flodell, who tripped while trying to get back into his crease from behind the net.
The Broncos added a second goal on a lengthy four-on-two power play rush when Giorgio Estephan slipped home a shot against his former team for a 2-0 lead. The Hurricanes had their own goal disallowed with 8.3 seconds left when it was ruled they had touched the puck after a high stick.
Matthew Stanley got the Hurricanes on the board 7:37 into the third period when he fired home a slap shot from the top of the face-off circle for his second of the post season. The Hurricanes scored a power play goal minutes later when Calen Addison scored on a point shot to tie the game 2-2.
Heponiemi scored his first career playoff goal with 8:49 left in the game when he beat Flodell to the blocker side from the bottom of the face-off circle.
"Obviously it feels good," said Heponiemi. "It is always good to get it at some point. It took awhile, but obviously it feels good."
The Tampere, Finland native now has one goal and 27 assists in 29 career post-season games.
"No, no not at all," he said when asked if he was feeling the pressure to score his first playoff goal. "It comes if it comes. If it doesn't come then it is just going to have to think about it a bit more and just shoot on net and get more shots."
Skinner earned the win with 39 saves, while Flodell took the loss with 27 saves.
The Broncos were one-for-three on the power play, while the Hurricanes finished one-for-four.
Game two of the best-of-seven series will be Saturday in Swift Current.