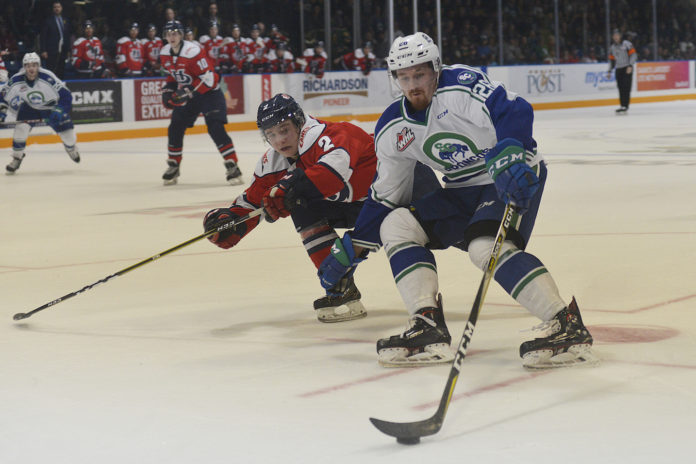 "I don't even know. I kind of blacked out."
Giorgio Estephan completed his hat trick midway through the first overtime period to lead the Swift Current Broncos 4-3 win and a 2-0 series lead in the Western Hockey League Eastern Conference championship series. But he couldn't even explain whether the puck was on the ice or in the air when he tipped it into an open net to send a sold out Innovation Credit Union iplex into a frenzy.
Estephan tipped home a Sahvan Khaira pass 9:38 into overtime as the Broncos allowed a second straight two-goal lead to slip through their fingers but won for a second straight night.
"I won the puck back to our D man. We were just kinda trying to get a lot of pressure and a lot of shots on net, especially in overtime, make guys tired and stuff. I kind of got off my guy a little bit and kind of separated a little bit. It was a perfect pass from Sahv, right on my tape. All I had to do was really tap it in. I mean kudos to him to find that lane. It was pretty perfect, so thanks."
The Broncos took control of the game early with goals 55 seconds apart in the opening five minutes. Giorgio Estephan scored both goals, the first on the power play on a set-up from Glenn Gawdin and the second on a selfless return pass from Max Patterson for his six and seventh goals of the playoffs.
The Hurricanes replied with a three-goal second period to take their first lead of the series. Jordy Bellerive opened the scoring when his pass hit a Bronco stick and went in. Dylan Cozens added a penalty shot goal after being tripped up and then Jadon Joseph scored with 1:17 left in the period when he batted home a bouncing rebound.
The Broncos tied the game midway through the third period when Aleksi Heponiemi scored for a second straight game with a power play marker, a high snap shot from just inside the bottom of the face-off circle.
Callen Addison had the first scoring chance in overtime when he wired a shot short-side off the bar only a minute into the first extra frame.
Stuart Skinner won with 36 saves against his former team. Logan Flodell took the loss with 28 saves.
"It was a hard-fought game," said Estephan. "There's definitely times throughout the game where everyone gets frustrated. But I think we stuck with our game plan. We stuck with things that were making us good. You could see at times how good we were rolling and that one felt pretty good at the end for sure."
"I felt we came out strong," said defenseman Josh Anderson. "The second period, the first five or so minutes we were playing well. Then after that it just kind of went downhill. We came back in in the second intermission there we had to regroup, especially coming into the third because we know they are going to push back pretty hard."
Game three and four of the best-of-seven series will be Tuesday and Wednesday in Lethbridge.