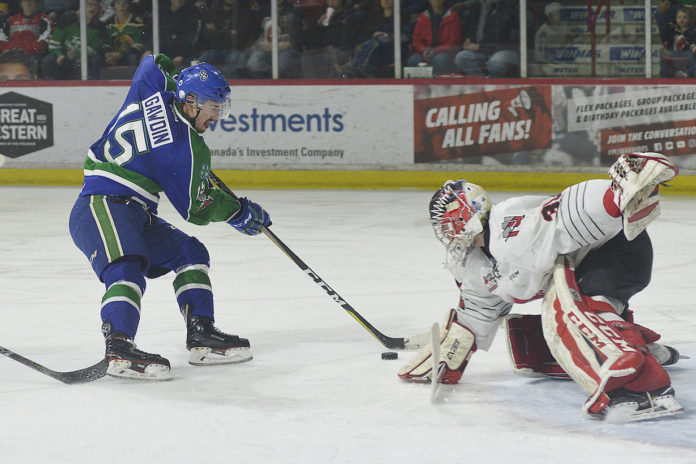 The Swift Current Broncos left nothing to chance in game seven of the Eastern Conference best-of-seven semi-final series with a convincing 6-0 win over the host Warriors on Monday.
Two days after a triple overtime loss in Swift Current, captain Glenn Gawdin led the Broncos with two goals and two assists and Stuart Skinner made 25 saves for his fourth shutout of the post-season. Defenseman Colby Sissons added a goal and two assists, while Aleksi Heponiemi and Tyler Steenbergen also had two-point outings.
"It feels great," said Gawdin. "For us for some reason we like to play game sevens and it's been that way. But adversity for this team means nothing. The way that we can bounce back and fight through adversity is the real reason why we won 6-0 tonight. Obviously game six didn't go how we liked or obviously wanted. Just for us bouncing back and we had another chance to close it out here and we did that.
Both teams had quality scoring chances in a surprisingly open first period of play, but it was the Broncos who scored twice for a 2-0 lead. Sissons opened the scoring with 7:15 remaining when his point shot was tipped by a Warriors player for his second goal of the playoffs. Captain Glenn Gawdin fired home his eighth goal of the post-season with 35.4 seconds left on the Broncos 13th and final shot of the period.
The Broncos came out flying in the second period as well as they added to their lead with two more goals over 1:18 early in the period. Gawdin got on the end of a beautiful Colby Sissons home run pass and beat Brody Willms for his second of the game and thenSteenbergen snapped home his 10th of the post-season.
The Broncos added to their lead early in the their period when Giorgio Estephan converted a beautiful feed from Heponiemi on their first power play opportunity of the game. The Broncos made it 6-0 midway through the period when Max Patterson converted an Andrew Fyten breakaway rebound. Brandon Schuldaus was assessed a five-minute major for slashing Fyten in the head on the play.
"We're ecstatic," said head coach Manny Viveiros. "We feel like we're also fortunate too. Very proud of our kids. I thought we played our last two games, game six I thought we played really well and obviously we played a real good game tonight too. You have to have to give credit to Moose Jaw to come back and win in game six and then come out tonight it was one of those things where we scored at the right time. We had the momentum and then we continued with the momentum and we scored at opportune times and it looks like maybe they ran out of a little bit of gas at the end."
The Broncos won three of four games at Mosaic Place against the Warriors, the top team in the Western Hockey League this season.
"Proud of our kids. To come back here and win three games in this building, plus game seven, very, very happy for them," said Viveiros.
"It feels amazing," added Skinner. "I am actually pretty tired. I am excited to get a couple days off and rest up for round three. It seems like we play really well in the Moose Jaw rink. Three wins playing away is huge. I mean that's the reason why we won this series. I am so thankful that I have this group of guys and we're a family out there, so I love it."
The Broncos will now face the Lethbridge Hurricanes in the Eastern Conference final as Skinner, Estephan and Tanner Nagel will all face their former team after a blockbuster trade brought them to Swift Current in January.
"Obviously this has crossed my mind a couple times," said Estephan, the former captain of the Hurricanes. "But I mean I have played a tonne of playoff games there. I know a lot of tendencies of a lot of guys there. Pre-scouting those guys will definitely be a little weird and a little different. I am definitely excited for the challenge. When I left there they said 'I'll see you in conference finals.' So yeah here we are."
The Broncos will now have home ice advantage and will host games one and two on Friday and Saturday in Swift Current. Games three and four will follow next Tuesday and Wednesday in Lethbridge.
The Broncos finished with a 3-1 record against the Hurricanes in the regular season. The Hurricanes are led by goaltender Logan Flodell, as well as Matthew Stanley, Logan Barlage, and Owen Blocker, who all went to Lethbridge in the trade deadline deal.
Centre Brad Morrison currently leads all WHL skaters with 29 points in 10 playoff games as the Hurricanes advanced past the Red Deer Rebels and Brandon Wheat Kings by 4-1 series margins.
The meeting should spotlight an intriguing special teams battle. The Hurricanes currently feature the second best power play in the league at 39.1 percent, while the Broncos are third at 32.7 percent.
The Hurricanes lead the league with an 85.7 mark on the penalty kill, while the Broncos are second at 84.0 percent.