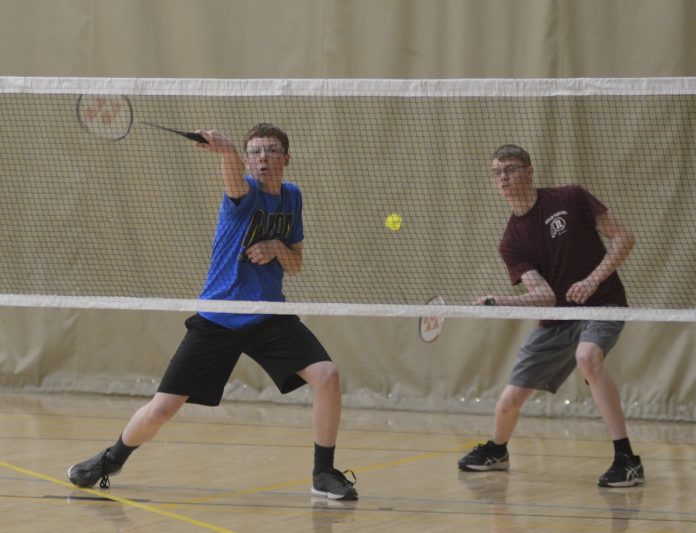 The Leader Saints won two of the five titles at a nine-team badminton tournament hosted by the Swift Current Comp. Colts and Ardens on Saturday.
Leader's Carson Leach and Jordan Mastel won all seven matches to top the 11-team boys doubles field. They finished 5-0 in the round robin and then defeated a Swift Current duo in the semi-final. Leach and Mastel defeated Rosetown 23-21 and 21-17 in the gold medal match.
The Leader Saints also got a championship performance from Kyla Tumbach and Payton Stimson in girls doubles. They won all seven matches without allowing more than 15 points to top the eight-team field.
Cabri's Dallyn Jamieson was unbeaten in six matches to win boys singles gold. He was 4-0 in the round robin and then defeated Swift Current's Noah Wills (21-12, 21-7) in the semi-final. Jameson edged Swift Current's Mason Smeby in three sets (13-21, 21-15, 21-19) to win gold.
Gravelbourg's Chloe Pouteaux and Rylan Kleckner topped the mixed doubles competition. They had a 4-0 round robin record and then downed Swift Current's Monica Torales and Grady Rogers (21-17, 21-18) in the semi-final. Pouteaux and Kleckner defeated Eston's Madison Hobbs and Riley Lahey (21-8, 21-7) in the gold medal game.
Rosetown's Meagan Wenzel won gold in girls singles with a 6-0 record. After posting a 3-0 mark in the round robin, she advanced past competitors from Leader and Swift Current in the playoffs before topping Cabri's Kaitlynn Bradford (21-10, 21-12) in the final.
The SCCHS will be the site of SHSAA Sectionals on Saturday with teams from Gull Lake, Swift Current, Herbert, Hodgeville, Vanguard and Ponteix all looking for top-four finishes.