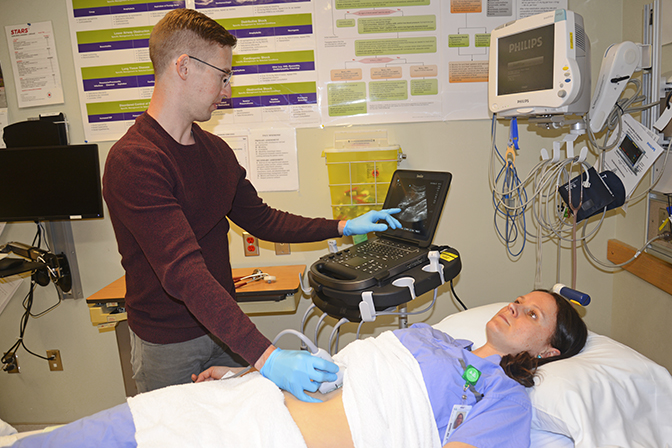 The efforts of two high profile campaigns by the Dr. Noble Irwin Regional Healthcare Foundation in 2017 have resulted in a pair of impactful contributions at the Cypress Regional Hospital.
This past Friday the Foundation showcased their new purchases and the vast improvements the beneficial equipment is having on patient care. In the Emergency Department, physicians are using a new portable Ultrasound unit, while the maternity ward is benefiting from the purchase of three new birthing beds and a pair of Panda Warmers.
Dr. Michael Kapusta highlighted the diagnostic benefits he now has at his fingertips thanks to the purchase of a portable Ultrasound unit for the Emergency Department at the Cypress Regional Hospital.
"There is not a day that goes by when I don't use this machine," Dr. Kapusta admitted. "And it follows me around wherever I go."
"This machine is a little bit different from a formal ultrasound machine, it's what we call a Point of Care Ultrasound machine," he explained. "It follows us around and we use it at the bedside and it helps us to make clinical decisions at the bed side."
Primarily used for the assessment of trauma patients and the sickest patients in the Emergency Room, a trio of exchangeable ultrasound probes allows the machine to provide physicians with a variety of medical imaging options.
"Prior to having the ultrasound machine I would listen to a heart, now I can listen to a heart and then also look at it with the ultrasound. Before I would listen to the lungs, and now I can actually take a look with the ultrasound as well too," Dr. Kapusta said. "It's an extension of our physical exam in order to help to make those decisions better, faster, and with those really sick patients."
"The former process was this kind of thing often didn't exist. It was a combination of either a physical exam – so looking, feeling, listening – which is obviously much less accurate. Some things like vascular access, so putting in lines, were done off of feel and sometimes off of a little bit of guesswork and some landmarking. And if I needed to get a formal ultrasound, then I could maybe get that in an hour or two, often only sort of during business hours. And so really this has certainly augmented our care that way."
"In a matter of a couple of minutes we can look at all different kinds of things in order to guide our management decisions. And so it really is an incredibly useful tool in the emergency department."
The upgraded items on the Women's and Children's Health Services Unit are also providing benefits for mothers and babies.
Three new birthing beds were purchased to replace some decade old beds which were showing their age.
"The old ones were just kind of falling apart and difficult to maneuver," explained RN Ashley Schwartz.
The three labour beds are more ergonomically designed for staff to adjust, and it easily transitions from a patient bed into a birthing bed.
"There are a couple of different positions that we can put the women in a little bit easier with these new beds when they're in labour, which is really nice," Schwartz added.
The Panda Warmers have been key additions over the past years, with the infant beds providing better controlled warmth for newborns, and the design features of the unit also help regulate oxygen levels and provides easier monitoring of an infant's vital signs.
"It's state of the art technology. We've got everything that we need here to be able to care for the baby," she explained. "We're extremely thankful to have the new equipment."
There are now Panda warmers in each labour room, one in the operating room, plus an older unit has been placed for use in the Emergency Department.
The new equipment comes at a price tag of over $250,000. The three birthing beds cost $24,000 each, a pair of Panda Warmers cost approximately $50,000 each, while the ultrasound machine was purchased at $60,000 to $65,000.
Clay Thompson, Executive Director of the Dr. Noble Irwin Regional Healthcare Foundation, was excited to view how the equipment is benefiting healthcare in the Southwest.
"It's kind of nice when we get an opportunity to see the fruits of that labour, and have the doc say 'it make his job a whole lot easier and more efficient.' That means a lot to us. That's frankly why we do this job," he admitted after viewing a demonstration of the ultrasound machine.
"We often don't always know what they would like to have. We get a list from the health region, and I hope from Sask Health Authority in due course, of the things that are needed every year," Thompson said. "But sometimes pieces like that ultrasound machine don't make it on there because it's not a piece that they have now and it hasn't worn out. So not everybody knows that something like that is needed and can really benefit healthcare in the area."
"The old maternity beds were just worn out," he explained. "Over 4,000 births over 10 years, it was just time."
Thomson said it was great to have the ability and donor support to help out with providing these pieces of equipment.
The Healthcare Foundation's 2018 campaign focus is facing a delayed launch because of the transfer of operations from the former Cypress Health Region to the province wide Saskatchewan Health Authority. The Saskatchewan Health Authority was officially launched on December 4, 2017, and changed procedures have delayed the release of this year's priority equipment list.
"The Saskatchewan Health Authority hasn't gotten us the priority capital list as yet. I know there's been one done, and I know they're trying to get organized enough that they can get it to us."
Thomson says they've been assured material will be coming shortly, but the provincial authority is just not ready to roll those lists out to the various foundations across the province.
Saskatchewan Health Authority CEO Scott Livingstone will be the guest speaker at the Dr. Noble Irwin Regional Healthcare Foundation's Annual General Meeting which will be held on April 11 at noon in the Community Hall of The Meadows.
In the meantime they are working with a group in Climax to launch a campaign to fundraise for new equipment at the Border Health Centre. This $50,000 campaign will help towards a new bathtub and renovations at the facility.
On the horizon are also initiatives in Cabri and Herbert, with those fundraising initiatives ranging from $35,000 to $50,000.
The Foundation's fundraising efforts remain in full swing. Their popular Chase the Ace, ran every Saturday at the Swift Current Mall, now boasts a jackpot of over $20,000. They are also gearing up for their second annual Black Tie Hockey Draft, and their annual Golf Tournament being planned for Friday, June 1 at the Elmwood Golf Course.