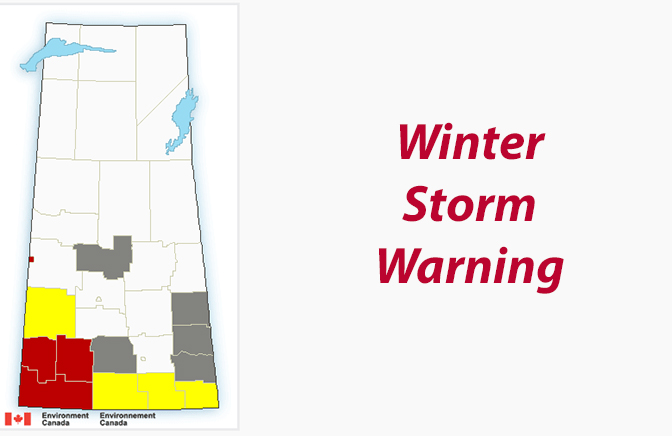 A Winter Storm Warning is now in place for portions of the Southwest for tonight and Friday morning, with strong winds and up to 10 centimetres of snow expected.
Environment Canada issued the Winter Storm Warming earlier this morning for the haunavon – Maple Creek – Val Marie – Cypress Hills, the Swift Current – Herbert – Cabri – Kyle – Lucky Lake, plus the Leader – Gull Lake forecast regions. A series of winter storm watches and fog advisories are also in place for various locations across Saskatchewan.
Environment Canada warns that bands of rain or freezing rain will begin this evening before turning to snow during the overnight hours. The snow, which will end by Friday morning, will be accompanied by strong wind gusts.
Snowfall amounts will be variable, with up to 10 centimetres of snow in the Cypress Hills. The strong winds will also be heaviest in the Cypress Hills, with strong gusts as high as 90 kilometres per hour expected.
Environment Canada is forecast five centimetres of snow in Swift Current tonight, with winds of 50 kilometres per hour, gusting to 70. An additional five centimetres of snow is expected early Friday morning before clearing.
They also advised that travel will be impacted by this widespread storm, which will impact across the prairie provinces and northern United States.