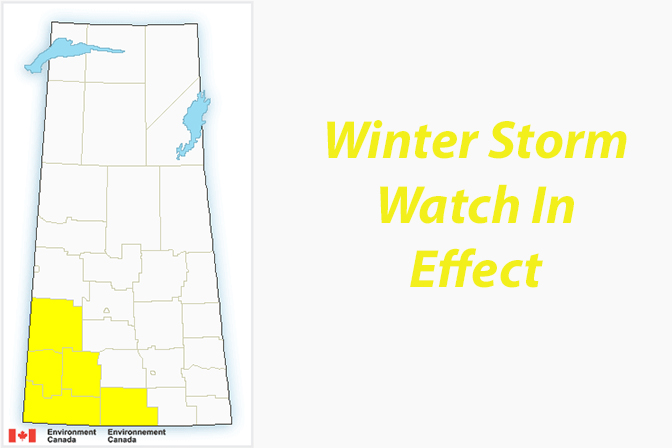 A Winter Storm Watch is now in effect for all of Southwest Saskatchewan, with Environment Canada warning of the potential of 10 centimetres of snow before the weekend.
A winter storm is forecast to sweep across Alberta on Thursday, dumping 10 to 15 centimetres of snow along a wide stretch of northern and central Alberta.
For Saskatchewan, a mix of heavy snow, freeing rain and strong winds are expected to hit the Southwest on Thursday night and into Friday.
"Snow with a risk of freezing rain, and southeast winds with gusts up to 70 kilometres per hour will begin Thursday overnight. Snowfall totals around 10 centimetres are expected by mid-Friday. Falling snow and strong winds will reduce the visibility in snow and blowing snow at times," the Environment Canada watch advisory notes.
At the current time, the Winter Storm Watch is in effect for the Shaunavon – Maple Creek – Val Marie – Cypress Hills, the Swift Current – Herbert – Cabri – Kyle – Lucky Lake, the Leader – Gull Lake, the Kindersley – Rosetown – Biggar – Wilkie – Macklin, plus the Assiniboia – Gravelbourg – Coronach forecast regions.
Additional forecasts will be issued as the path of the storm becomes apparent.