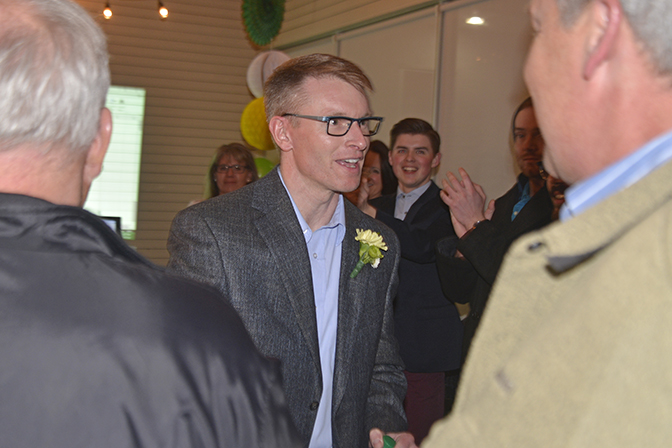 Newly elected Everett Hindley is quickly getting up to speed in the legislature after being sworn in as the Swift Current MLA on March 12.
Hindley formally joined the 46 member Saskatchewan Party majority government in the Legislature this past week, and he is now settling into his new position.
"We got right into the thick of things in week one," Hindley admitted during an interview after his first week in the Legislature. "Its been an interesting and a very action packed first week obviously for me."
Monday, March 12 was the first day of the spring sitting, where Hindley was sworn in as the new MLA for Swift Current, as were fellow by-election winners Ken Francis (Kindersley) and Todd Goudy (Melfort).
The first order of business at the resumption of the session was to elect a new Speaker of the House, with Mark Docherty, MLA for Regina Coronation Park selected to serve as the presiding officer for the Legislative Assembly.
"There are a lot of fresh faces in that chamber now. We've got a new Premier, a new Leader of the Opposition, three new MLAs and a new Speaker of the House. So that was the first day, and all of us are just getting our feet under us as this session gets underway."
After working as Brad Wall's constituency assistant starting in 1999, and then serving as the Executive Assistant to the Premier since 2007, Hindley is now getting used to the procedures and seeing how parliamentary democracy works on the floor of the legislature.
"It has been a bit of a transition for myself. I fortunately have a bit of a leg up on the other two new MLA's. This is all completely new to them. For myself, some of this I know just given my experience in politics for the last 18 years."
"The part of it that's new is sitting inside that chamber and being involved. Being there for question period, being involved in the debate and having a chance to participate, introducing guests in the assembly and just watching how that all carries itself out," he said.
Hindley had a number of family and friends attend his first day in the Legislature and his swearing in, and last Monday afternoon he rose on the floor of the legislature to introduce those individuals in the gallery.
"That was pretty overwhelming… with 60 other MLAs looking at you while you're doing that. Obviously the heart's pounding a little bit then."
Then on Wednesday, March 14, he had first school group visit the legislature, when a group of Grade 10 to 12 Maverick School students attended. He enjoyed a 30 minute question and answer session with them, before they attended the afternoon session.
To wrap up the week last Thursday morning, he was able to ask a question during a 75 minute private members bill debate.
"They've kind of thrown us right into it."
The Saskatchewan Party is now working towards the release of the provincial budget on April 10.
"New MLA's weren't able to be a part of the budget process. That's just the way that the by-election date fell on the calendar."
"My understanding it's pretty much done, however as a new MLA I haven't had a chance to be involved in that."
"That'll be an important date for our province and for our constituency obviously. We've got a new Premier who's made some changes to cabinet too, and obviously they've had some discussions with my other colleagues about what the priorities should be for the province in the upcoming fiscal year here.
"Last year's budget, obviously there were some difficult decisions made, and some of those we've changed as a government."
Hindley is also doing work on the home front, with his constituency office now open. After the final sitting day of the legislature this week, he has a busy calendar on Friday, attending a trio of events in the community and hosting a series of meetings in his office.