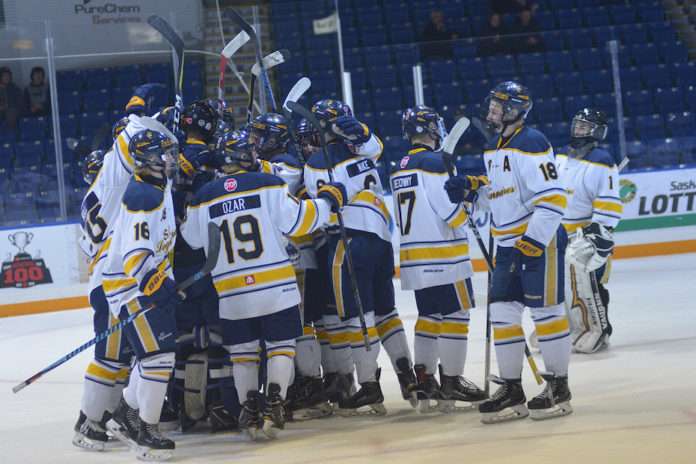 The Swift Current Home Hardware Legionnaires defeated the visiting Tisdale Trojans 7-1 on Sunday to clinch their first playoff series win in well over a decade in the Saskatchewan Midget AAA Hockey League.
"It's exciting," said third-year forward Rin Beny outside a jubilant dressing room after the win. "We've had really close games with these guys. Today we came out hard and all battled and we are excited to move on to the second round against the Hounds."
They led 1-0 after one period, added pair of goals in the second period, and then left nothing to doubt in the third period with four goals for a 3-1 series win.
"I think we all were just going. A couple bounces went our way early and that's how we got going early. We laid the body and and just stuck to our game plan," said Beny.
Cody Levesque was outstanding in goal with 24 saves and Ty Muench led the way with a hat trick, followed by a goal and two assists from Hunter Lamb. Beny scored twice and Mason Strutt added a pair of assists. Mkyllan Couture also scored, while Christian Riemer, Kersey Reich, Jacob Piller, and Owen Ozar all added assists.
"I don't look at the history of it," said Head Coach Darren Evjen. "I just look at this year's team and where we've come in the last two years, the importance of winning a series, and all the things we've done this year. But I think there's more in this group. We just need to enjoy this series win and start getting ready for Notre Dame."
The Legionnaires will now face the top seeded Notre Dame Hounds in the best-of-five semi-final series. The Hounds led the league with a 39-2-1-2 record, scoring 128 more goals than they allowed. The Legionnaires lost three of four meetings but did defeat them in their final match-up on Feb. 11.
"They are kind of like us," said Beny. "They have a couple skilled guys up front and on the back end. I think we just have to play our game, use our speed and just hit them and get good goaltending from our goalie."