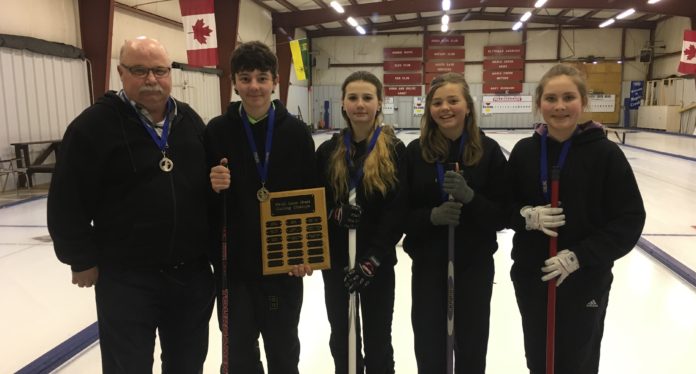 Maple Creek rink was the site of the SWAC junior district curling championships on March 2-3. Thank you to Maple Creek High School and commissioner Monique Bonneau for all their hard work. There was four girls, four boys and seven open teams taking part.
Congratulations to Maple Creek and their coach Kylie Parsonage on winning the girls' title. They came from the B side and defeated Shaunavon twice to take the championship. Congrats to Swift Current Comp. and their coach Mark Tollefson who captured the boys' title by beating Frontier. Congrats to Val Marie and their coach Blaine Clement on winning the open title beating Shaunavon in the final.
There will be two Southwest teams advancing to SHSAA provincial curling. Maple Creek girls (coached by Holly Jamieson) and Gull Lake girls (coached by Bev Dutton) will be going to Ituna on March 9-10. Congrats to Maple Creek girls (skip Morgan Robinson, 3rd Sydney Windjack, 2nd Rayel Jamieson and lead Madison Glascock) on winning the SHSAA regional title at Moose Jaw on March 2 & 3. The girls defeated Assiniboia 6-2 in the first game then beat Gull Lake 8-5 in the A-B final.
Gull Lake (skip Rachel Murray, 3rd Nikita Trapp, 2nd Brenlyn Butts and lead Jacey McCarty) won their first two game against Moose Jaw Central 10-6 and LCBI 8-3. After losing to Maple Creek in the A-B final, Gull Lake dropped to the B final and beat Moose Jaw Central 7-3 to claim the 2nd spot at provincials. Good luck to both girls teams!
Also curling at Moose Jaw were the two Southwest boys' team – Swift Current Comp. and Ponteix. The Comp. boys defeated Moose Jaw Central 9-8 in the first game but lost in the A-B final to Mossbank 7-1. They then dropped to the B final but lost to Kindersley 7-6. Ponteix lost to Mossbank in the first game 6-4. They rebounded to beat Moose Jaw Central 5-4 but then lost to Kindersley 5-4.
The mixed regional curling was held in Assiniboia and the Southwest was represented by Maple Creek and Hodgeville. Maple Creek beat Assiniboia 7-6 but then lost in the A final to Rosetown #1 by a score of 7-6. They dropped to the B final where they lost to Assiniboia 11-3. Hodgeville started with a win over Moose Jaw Peacock 10-3, but then lost to Rosetown #1 by a score of 9-2. On the B side, they beat Rosetown #2 by a score of 9-7 but then lost to Assiniboia 6-4.
The SWAC junior boys basketball league championship was captured by Swift Current Comp grade 9's. The Colts hosted Waldeck on Feb. 27 and won by a score of 71-56. Congrats to the Colts and their coaches Juan Calabres, Justin Kehler, Ian Hayes and manager Linda Risdale.
Shaunavon hosted the senior boys and girls league basketball championship games on Feb. 27. Congrats to the Shaunavon Shadows and their coaches Dean, Carl and Jaime Wilkins. They defeated Swift Current Junior Colts 85-72 to capture the title. Nixen Voll led the way for the Shadows with 24 points while Austin Smith and Brett Kronberg added 17 points each. The Colts top scorer was Bren Medina with 26 points and Austin Wiebe added 16.
Congrats to the Shaunavon Silhouettes and coaches Jaime Wilkins, Dean Wilkins, Courtney Bredahl and Tim Miller on winning the girl's league title with a 65-51 win over Herbert Laurels. Jensen Piquette had 22 points for the Silhouettes while Kerrigan Stevenson added 20. The Laurels top scorer was Jewel Jacobson with 14 followed by Olivia Peterson with 13 points.
SHSAA basketball playoffs will start on the March 9-10 weekend with conference play. This will be followed by the top 16 playing in Regionals on March 16/17. The top four in each population category will then advance to the provincial tournament HOOPLA at Prince Albert on March 23-24.
The Southwest will host two conference playoffs on March 10. 1A girls conference play will be held at Leader with teams from Leader, Luseland, Kerrobert and Eatonia taking part. The top two will advance to Regionals.
Herbert will host 2A girls conference play. The four teams participating will be Herbert, Shaunavon, Davidson and Moose Jaw Cornerstone. Top two advance to regionals. The rest of the Southwest teams will be on the road:
1A boys – Frontier and Herbert will travel to Coronach.
2A boys – Shaunavon will travel to Caronport.
3A boys – Maple Creek will travel to Biggar.
3A girls – Maple Creek will travel to Kindersley.
The Chinook School Division Sports Report is submitted by Athletic Coordinator Deb Reamer.