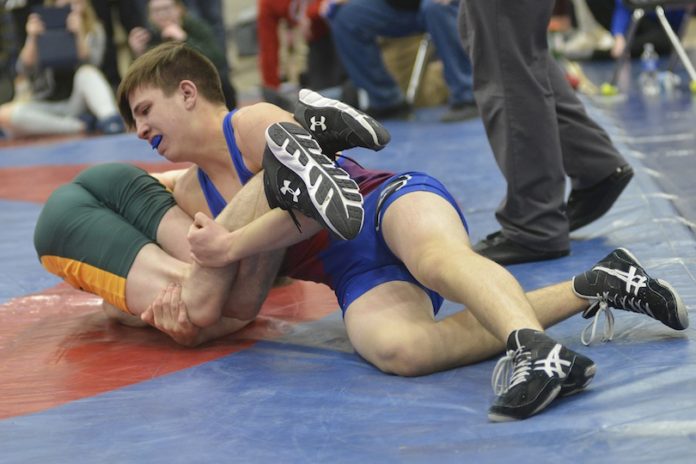 The Swift Current Comp. wrestling team hosted the SHSAA Regional Wrestling Championships on Saturday with approximately 170 athletes from across the province in attendance.
"It has been a great tournament," said coach Dan Marchand. "The teams that showed up were impressed with the way it was run. The athletes had fun with it and the other towns had fun so you can't ask for better."
Five Colts and one Ardens wrestler earned top-four finishes and will advance to SHSAA Provincials, which will be held in Saskatoon on March 9-10.
Grade 11 Aleah Nickel won all three of her matches in dominant fashion in the 60KG Division. She opened the day with a 10-0 tech fall win over Maidstone's Chelsea Klein.
Nickel overcame a shoulder injury in her second match to defeat Meadow Lake's Skyla Russell 12-1 by tech fall in the semi-final.
She finished the job with a pin 1:54 into the final over Meadow Lake's Kierra McCoy.
"I felt like I wrestled really well. With the support of the team behind me I can always go my hardest and do my best," said the decorated wrestler.
Nickel won bronze in grade nine and silver in grade 10 at Provincials and is intent on bringing home gold this season. "It will be just going out tough in every match and making sure I am always focused," she explained.
Sebastien Marchand won both of his matches to win the 73 KG Boys Division, outscoring his opponents 22-2. He had a pair of byes before a 10-0 tech fall victory over Meadow Lake's Logan Boser. He defeated Prince Albert Carlton's Elijah McPherson 12-2 by tech fall in the championship match.
"I think I did alright," said Marchand. "I almost went without getting a point scored on me, but given I haven't lost yet this season I think it has gone really well. This is my first time getting gold at Regionals, so Provincials is looking pretty good."
Marchand has advanced to Provincials twice before but has not medalled. He said he is aiming for gold this time around.
Luke Nelson won three straight matches to win gold at Regionals in the 65KG Boys Division. He won by forfeit to open the day and then defeated Moose Jaw Peacock's Tristan Kuntz 10-0 in the semi-final. Nelson wrapped up the day with a 14-3 win over Carrot River's Nyk Silcox.
Colt Cornelson also placed first at Regionals as the only competitor in 53 KG Boys Division to advance to Provincials.
The Colts' Emmett Guider won three of four matches to advance to Provincials in second in the 77 KG Boys Division. He won by fall in 19 seconds over Weyburn's Logan Bettes to open the day. He added a first-round win by fall over Carlyle's Manny Halbgewachs in his second match. Guider defeated Warman's Austin Martiniuk by fall in the semi-final as well.
The final match of the day featured Guider against Prince Albert St. Mary's Conley McLeod for gold. The thrilling back-and-forth match saw McLeod win by fall at the 4:01 mark.
The Colts' Josh Keller also advanced to Provincials with a third-place finish in the Boy's 82 KG Division. He lost his opener to Flin Flon's Carson Lee, a national champion. Keller rebounded with an early win by fall over Moose Jaw's Brayden Johnson.
The host Colts and Ardens finished third out of 27 teams with 60 points, behind only Prince Albert St. Mary and Prince Albert Carlton.
"Our headline wrestlers were just fantastic. They had excellent matches, topped off by Emmett's second-place finish. He put all his heart into it and you can't ask for better than that," said Dan Marchand.
It was the first time in almost a decade that Swift Current had hosted Regionals.
"The athletes definitely responded in front of the home crowd. There were a few nerves mind you, but you can't expect better than what we had today. It was a good time," concluded Dan Marchand.