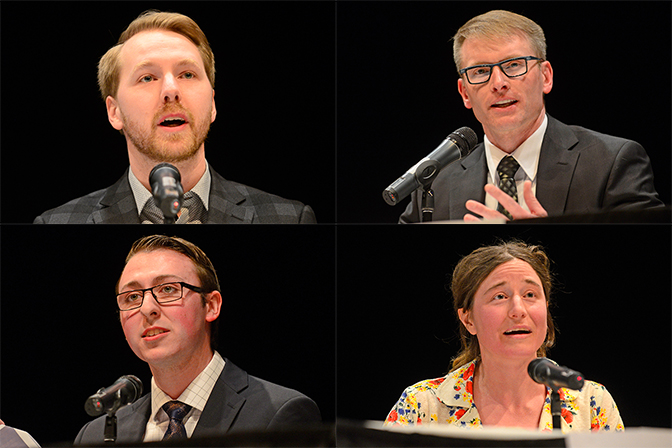 Voters go to the polls in the Swift Current Constituency today to select a new MLA in a by-election race to replace former MLA and Saskatchewan Premier Brad Wall.
A large audience turned out to the Living Sky Casino Event Centre on Monday to hear the platforms of the four by-election candidates during a 90 minute long all-candidates information forum.
The informative meeting, hosted by the Swift Current and District Chamber of Commerce, allowed interested voters to hear the platforms and pose a series of questions to the four candidates on today's ballot.
Saskatchewan Party candidate Everett Hindley, who has worked for Brad Wall as both a constituency assistant and the Executive Assistant to the Leader/Premier, said this is an important by-election for Swift Current.
"It's a time when we get to decide whether or not we're going to continue along the path that has been laid out by the previous MLA…and the path of the Saskatchewan Party government. And I would argue that that's a path that we want to continue along into the future."
Hindley, who has worked in four provincial elections and worked with MLA Brad Wall from when he was first elected, said he knows the constituency and what the priorities are for the people of the community. He highlighted that a series of fairly significant projects have occurred over the years. They advocated for construction of The Meadows, a 225 bed long-term care, state of the art P3 project. There were also a total of $38 million invested in highway infrastructure project in this constituency, including a truck climbing lane at Saskatchewan Landing, the 2009 improvement to the TransCanada/Highway #4 interchange, and recently the installation of lights along the TransCanada Highway corridor.
He also pointed to the growth of two to nine group homes, plus construction of the joint use All Saints and Ecole Centennial Schools and important additions to the community.
"These are significant projects, but there's always more work to be done I think. Because of that I would say that I think it's important to have a party and a provincial government that will support growth."
He stressed that the SaskParty pursues an agenda of economic growth in order to fund projects such as those which have helped Swift Current grow.
"Economic growth has allowed us to make some major cuts to personal income taxes as well, and education tax cuts, and its also allowed us to increase funding for senior citizens programs, and also for those on social assistance."
Hindley said he would continue to advocate for constituency priorities on the government side of the house.
"As an MLA, I think you're able to accomplish far more working on the government side rather that being in opposition."
And while the Saskatchewan Party is taking heat from other provincial parties for not signing onto the federal carbon tax framework, Hindley said that remains a priority area to stand up to the federal government on.
"Let me be clear, that the Saskatchewan Party will continue to fight against that federal Carbon Tax, and we're the only provincial party that's indicated that we're going to continue to fight against the carbon tax."
He also noted the SaskParty has been listening to people through the recent leadership campaign, with newly selected Premier Scott Moe announcing $7.5 million in mid year funding to help relieve some of the pressures in the education sector as part of a $30 million commitment he made during his Saskatchewan Party leadership campaign. Earlier this week they also announced the reinstatement of the PST exemption on agriculture, life and health insurance, retroactive to August 1 of last year.
"It's important to note that our party and our government will listen to people, and will continue to listen to people, as we move forward."
"It's an exciting time here in Saskatchewan. We have a new Premier, a new provincial cabinet, some new direction and some new ideas. And I'm excited to be part of this fresh new start."
Saskatchewan NDP candidate Stefan Rumpel, who has been a teacher at the Swift Current Comprehensive High School for the past eight years, has been passionately campaigning in order to help the NDP have a stronger voice in the legislature.
"Part of the problem is we're out of balance. We don't have a strong enough opposition. We need a healthier opposition to have a better democratic society. More voices at the table means more people are heard, which means we don't make these mistakes in the first place because somebody brings them up."
He told the audience he has been on city doorsteps every day since the by-election call back on February 2, spending eight to 10 hours daily in order to listen and hear what people have to say.
"That's the number one job of government. Listen to people. And listen the first time."
Rumpel pointed out the current government cut funding to libraries, and it took numerous rallies, petitions, and weeks of standing up for their beliefs before the province finally listened and restored a portion of the original funding. It was a similar situation with the recent walk back of cuts to education and the reinstatement of the PST exemption on agriculture, life and health insurance.
"My question is, why would any of this be ok to do in the first place? We need a government that listens the first time.
"What I've been hearing every day is that we need to do better. People have told me that they're frustrated with the fact that our cost of living keeps going up and our services go down."
He argued that having PST added to meals and children's clothing has made communities less and less affordable to live in. That has been compounded by cuts to municipal grants which have forced up property taxes.
"Who does this hurt? It hurts seniors on fixed incomes. There's no more room for them to move. It hurts young families who are trying to establish themselves. And it hurts people with disabilities, all of the people who really can't afford to pay the price."
As an educator, he has seen over the last eight years that Educational Assistants, Councillors, Youth Workers, all supports that students relied on, have now moved out of the building.
"A big cut and then $7.5 million back is not restoration of funding or an increase to education."
"It's great that we can have a new school. It's great that we can have a new care centre. But without high quality, competent staff in these buildings, they're just fancy walls. We need to invest in people and infrastructure."
He said a strong opposition voice is important in holding the government to account.
"This is a by-election. That means the decisions made here today are not going to change government. So we as a community have a decision of who do we want to be our voice – who do we think is going to best represent Swift Current?"
Weyburn's Aidan Roy, who sits as the Youth Representative on the executive of the Saskatchewan Liberal Party, took strides during his presentation to separate the Saskatchewan Liberal Party with the federal Liberals.
"A Saskatchewan Liberal is not a federal Liberal because our party has no connection to the federal party. And it has been like this for close to 10 years."
"As a registered member of the Conservative Party of Canada, I am deeply concerned about the situation we are in both federally and provincially. In both situations we have seen a lack of fiscal responsibility, with deficit spending everywhere you look. I am fighting to bring back fiscal reliability to our people, and ensure that we are running balanced budgets during these difficult times in our economy," Roy said.
Roy currently serves as a pre-service teacher at the University of Regina during the third year of studies towards a Bachelors of Secondary Education (Major in Social Studies).
He said the provincial government should be making some important decisions to better fuel the economy. The province should focus on balanced budgets and low taxes, with this fiscally responsible approach allowing government to tackle a rising provincial debt.
"I would like to see us loosen the restrictions and regulations that currently bind our small businesses, so that not only can they expand but they can create jobs for our people."
He argued that the Carbon Tax is a negative factor, but one that Saskatchewan needs to prepare for.
"I do not support the Carbon Tax. However, experts from across the country are telling us we are fighting a battle which has never been won before."
Roy pointed to the provinces fighting the federal government on the implementation of the GST in 1991 as a money-wasting effort, but with Saskatchewan now alone in fighting against a Carbon Tax, Saskatchewan is now in a worse situation.
"If this is what the future lies ahead of us, we have to make the best out of a worst case situation."
Roy said a Saskatchewan Liberals propose taking the $2.5 billion revenue which would be provided by the federal government, to be reinvested into Saskatchewan economy. This would allow the province to cut provincial income tax in half, saving the average worker $2,335. The province could also pay off debt, lower small business taxes to stimulate the economy, plus fully fund K to 12 education, or at least return the $57 million cut in the last provincial budget.
As MLA, Roy would also take aim at Saskatchewan's post secondary tuition fees which are putting many students into debt.
"Saskatchewan pays the highest tuition fees out of all of Western Canada. Students are struggling to make ends meet. This needs to be addressed today before it becomes a greater issue."
In a final area of concern, Roy noted he has heard numerous complaints about long wait times for surgery, lack of funding for social assistance programs, and the overall dissatisfaction with the quality of care people receive.
"Every city feels the stress of a diminishing healthcare budget, and I've seen the first hand effects of the devastating cuts committed by the SaskParty."
Green Party of Saskatchewan candidate Marie Lewans touched on a series of items in the Green Party statement of principles, including decentralization, sustainability and ecological wisdom. She also expressed many of her strongly held personal believes about globalization and inequality.
Lewans, who is a journeyman plumber and gasfitter, is admittedly passionate about a wide range of environmental issues. She particularly focussed a number of her points on agriculture and the way food is produced.
"I think one of the thing that can help save the world is going to be to localize food production. That's why I decided to go into politics is because I'm really concerned about what's going on in the world, what's going on with our environment. So we need to start talking about solutions."
She pointed out that in Paris in 1845, there were 9,000 people employed as gardeners, and they supplied all the food for the entire city. Today, cities should be looking at that model.
Lewans was disappointed that small farms are dying out while larger, more mechanized operations take over. This has a ripple effect around the world, as small producers in other countries can't complete, as first world countries with big machinery are taking over from peasant farmers overseas.
"It doesn't make sense to destroy our biodiversity and spray chemicals and poison our water, and they can do the same thing for the sake of trade. Because a lot of trade seems like trade for the sake of trading."
"We need to learn to live within our means. We've become pretty entitled living in this world of convenience. I think we really need to re-examine how we live."
She said more people are lost in the divide between have and have nots, and there is little equality in society.
"I see a lot of people struggling. I see that divide getting bigger and bigger, and I see a society that caters to the wealthy."
She also argued that politics is less about ideas and less about the people and making the world a better place, and more about ego. She would like to see proportional representation so more voices are heard when making government decisions.
"Right now it feels like we're having two voices, and the one that has the most people just gets their way regardless. So I think there needs to be more collaboration and discussion of ideas instead of just an us versus them mentality."
"I think that's one of the problems now a days, we keep thinking in a linear manner and keep finding these bandaids to put on stuff, when what we really need to do is start thinking outside of the box and maybe re-examining how we've structured just about everything."
Lewans also said a lot of people are feeling left out and more reforms are needed in order to make improvements.
"So when you're voting for Green, every vote says you're not happy with what's going on. You want change. You realize how important our environment is to us. It's the one thing we have in common with everybody on this planet is we all eat and we all drink water and we all breath the air. And I think we need to look because we all have more in common than we have differences and I think we need to focus on that."