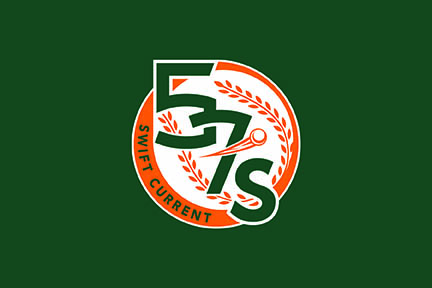 A pair of iconic players from the formative years of the Toronto Blue Jays will be the keynote speakers at the upcoming Field of Dreams Dinner.
The Blue Jays duo of Jesse Barfield and Willie Upshaw will be speaking at the Swift Current 57s fund-raising dinner on Saturday, February 24.
Barfield enjoyed a 12 year career in the Major League's, swatting over 200 home runs and earning an MLB All-Star nod in 1986. The two time Gold Glove winner patrolled the outfield with George Bell and Lloyd Moseby, providing Toronto with one of their all-time best outfield combinations.
Upshaw boasted a 10-year Major League playing career, and went on to serve three seasons as a MLB hitting coach and ultimately a 17-year coaching career. He has the distinction of being the first player in franchise history to collect over 100 RBIs in a season.
Upshaw said he has many fond memories of his days in a Blue Jays uniform, but he had to work his way into the starting line-up.
"It was tough. My first year was 1978, and we lost a lot of games (59-102 and finishing seventh in the AL East). I was 20, just turning 21. I played a lot in the first half and played sparingly in the second half. We would be winning games until like the seventh inning and then we would lose, and I couldn't figure it out," he chuckled. "But that's when games are won, especially in the Big Leagues, in the seventh, eighth and ninth innings. And we just weren't great in those situations back then. We just didn't have enough personnel to finish games out. Tom Henke eventually game along, and (Carlos) Delgado. And then we could finish games off."
He even asked Pat Gillick to send him down to the minors so he could get more playing time, but he now admits he earned a lot sitting and learning the MLB game.
"There were a lot of growing pains, not only for myself, I mean those were growing pains for me, but the same thing with the organization, they were just kind of letting guys play their way out. And it just wasn't my time yet."
When he did work his way into the starting line-up, he was part of a young, hungry team.
"Together we started to put up some good numbers. We were all young and strong and fast, and that was what we needed," he said, adding they had a solid group of starting pitcher which featured Dave Stieb, Jim Clancy, Luis Leal, Doyle Alexander and Jimmy Key.
"We all came along together. It was a lot of fun."
He had 104 RBIs during the 1983 season to become the first Blue Jay in franchise history to collect over 100 RBIs.
"That was one of my goals, to be a good hitter first. It wasn't about power then, parks were bigger and pitching was, I think, better. You just had to get your hits every day and try to drive in some runs. That was always my goal. When I reached it it was pretty exciting."
Upshaw says he will cover a number of topics during his talk in Swift Current, including what drove him to play baseball and what kept him wanting to be good every day.
The 19th annual Field of Dream Dinner, presented by Innovation Credit Union, begins with cocktails at 5:30 p.m., followed by dinner 7 p.m. There will be live and silent auctions. Tickets for the February 24 fundraiser are $80 for single seats or $600 for a corporate table of eight. For more information contact Brad Woods at 772-0471 or by email at brad.woods@sasktel.net.