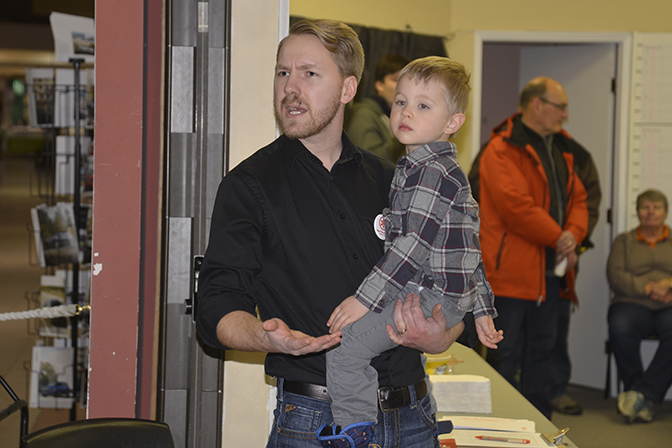 Saskatchewan NDP candidate Stefan Rumpel officially opened his campaign office in the Swift Current Mall on February 7.
Rumpel previously had an informal meet-and-greet during the opening day of the Swift Current by-election race, and was happy to see growing interest in his campaign.
"I was really pleased. Really happy," Rumpel said of the opening turn out. "It was great to have so many people willing to come out and join the team and get involved."
Rumpel stressed to his supporters that this is an ideal time to start having the conversation about politics instead of voters just making an automatic 'x' on a ballot.
"I think that's so important. We can't just blindly go one way. Because when we stop questioning, that's when we run into these situations where decisions are being made that are impacting people, and then suddenly people decide to speak out."
"We need to be pro-active. We need to be talking about what is important to us so that government knows and makes decisions based on what's important to its citizens.
"I want to be in there because I know that my first priority will be listening to the people of Swift Current and ensuring that that voice is heard."
Rumpel said that the NDP's core values will certainly resonate with people once people start talking about their ideas.
"I truly believe that the core value of the NDP is supporting all people. Supporting everyone, and doing it as a community. And I look at Swift Current, and I look at the way we fundraise for Telemiracle, the way we come together for the Dr. Noble Irwin Regional Healthcare Foundation. We do these things, we do these NDP values where we give of ourselves, we donate our time, we donate our money, and that's why Swift Current is such an amazing place to be. And that's exactly what the NDP is about. We want to support people. We want to help people. We want to make sure that everybody's thriving. And that's Swift Current. So to me it aligns perfectly."
He also noted that the government has been walking back a number of budget decisions, which shows they shouldn't have made those decisions in the first place, or that it took them a long time to understand the ramification of their cut.
"It doesn't make sense to me that over the past two years now we're getting decisions that are being made and then people are against them, people are upset, and they are loud, there's petitions. And then they stop and they go "oh, oh, ok. Sorry. I guess we didn't realize that was the thing you cared about.' That's the government's number one job is to know what people care about. So that's frustrating to me. And I think we need people there who have that knowledge, have that connection to community so the decisions that are being made are proactive. We shouldn't always be back peddling. We shouldn't always be on our heels trying to go 'oh, that's not popular with people?' We should know what's right for people, and we should be doing what's right for people first."
Rumpel is now campaigning full time in the Swift Current Constituency race..
"I didn't want to be giving my students half of myself and the constituents half of myself. I thought that would be unfair to both groups, so I knew it would be best for me to step back and make sure I could focus on this fully."