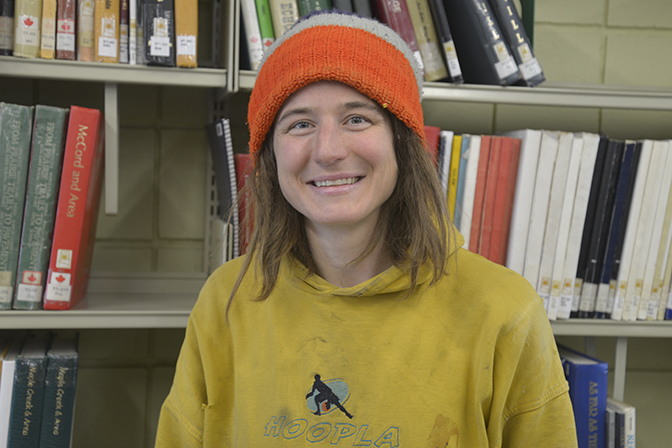 Maria Rose Lewans will be sharing an environmental message during the upcoming Swift Current Constituency by-election.
Lewans has been declared the Green Party of Saskatchewan candidate for the March 1 by-election, and she is passionate about a wide range of environmental issues.
"I am concerned a lot about the issues going on in the world and about the degradation of the environment, and our unsustainable ways," she said during an interview this past week.
"It doesn't feel like anybody's really talking about what I want to hear about, or I feel the politicians should be talking about."
She contacted the Green Party about representing their party in the by-election because of the lack of focus on environmental issues on Saskatchewan's political landscape.
"I kind of really felt drawn to them and felt that they were a good fit for me," Lewans said. "That's one of the things that compelled me to run, just because I have so many concerns about what's going on in this world, and I don't really here these things being addressed."
In the Swift Current Constituency, she felt the top issue was water and water security.
"With the kind of droughts and water shortages I don't know if we really have the water to be expanding the city a lot," Lewans said.
"I'm concerned about the growth of the City. I think it's not really sustainable to be living in these giant cities or empires, and I think I would like to see the revival of kind of small-town communities."
"If we continue to grow, and now we're pumping out water to the power plant, I mean that's something we have to be concerned about, especially cause we know the earth goes in cycles. Who knows, how long is this kind of drought like conditions going to last. I mean it's something we have to be aware of and be prepared for."
She also opposed the use of fluoride in the city's water supply.
"I would like fluoride out of the water. It's an industrial waste product, and plus it's forced medication. It's been used for hyper thyriodism. So people with low thyroid function it effects them. Or people who drink a lot of water like athletes or diabetics or people with kidney functions, it really effects."
"I think if people believe that fluoride is good for them they could have the option of buying tablets for themselves or having supplements. You shouldn't subject the whole population to this, especially when it's costly to add it in."
Lewans is one of just two Green Party of Saskatchewan candidates running in the current by-elections. Party leader Shawn Setyo has entered the race in Melfort.
She admitted that her own campaign is just starting, and she had her first opportunity to meet with party executive members this past weekend.
"It's a pretty small party with not a lot of funding, so it's just support," she said of the Saskatchewan Green Party's early efforts for her campaign. "They've helped me find some people to connect with. And we'll be discussing a lot more things I guess on the weekend."
"I didn't hit the ground running," she chuckled. "So hopefully I'll network with some people here and kind of get more organized and start."
She felt that simply having people talking about and recognizing environmental issues was a key to her campaign.
"But I kind of think it's about just connecting with people and talking with people," she said. "If you can just start getting people talking, then maybe that's when change happens. Even if I don't get elected, hopefully some of these issues will be brought up and maybe changed."