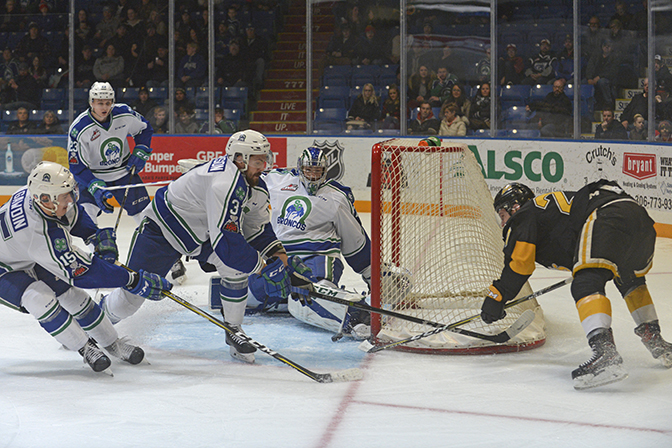 Tyler Steenbergen scored the game winner with 8:54 left in regulation and Glenn Gawdin scored his 49th goal of the season into an empty net as the Swift Current Broncos doubled up on the visiting Brandon Wheat Kings in a Valentine's contest.
Steenbergen notched his 40th of the season and seventh game winning goal of the campaign when he converted a Gawdin rebound near the midway point of the final period.
Gawdin, picked up his third point of the night when he batted home a bouncing puck into an empty net with 11 seconds left on the clock to put the game away.
Swift Current came out gunning in the first period, holding a 21-11 edge in shots and taking a 1-0 lead on Colby Sissons' 12th of the season.
However, Brandon held the Broncos to just 12 shots over the final 40 minutes of the game and battled their way to a 2-2 tie after two periods.
Brandon's Ty Lewis counted his 30th of the season at the 9:15 mark of the middle frame to get the Wheat Kings on the scoreboard, but Bronco Kole Gable notched his sixth of the year just 31 seconds later to give Swift Current a 2-1 lead. Rylan Bettens tied the game at 2-2 with his fourth of the year to round out the scoring in the second period.
Bronco net minder Stuart Skinner turned aside 31 of 33 shots to improve to 24-18-2-0 on the season and an impressive 10-3-0-0 since joining Swift Current at the trade deadline. Brandon goaltender Dylan Myskiw stopped 29 of 32 shots in 58:36 of action to fall to 5-4-2-0.
Swift Current improves to 41-13-3-1 with their fifth straight win and remain three points back of Moose Jaw for top spot in the East Division. Brandon drops to 30-21-3-2 and remains in third spot in the East Division, 21 points of the Broncos.
Bronco Bits: Gawdin now has 295 career points with the Broncos as he passed Joe Sakic (293) for seventh on the franchise leading scorers list. Next up in his sights is Bryan Trottier's 301 career points. He also leads the WHL with 107 points and a plus-51 plus/minus rating. Sissons is now second amongst all WHL defenseman with 61 points, just three points behind Medicine Hat's David Quenneville. He is also tied for second among all WHL players with a plus-49 rating.