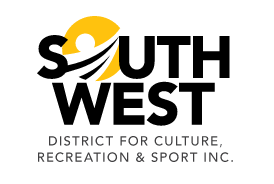 Team South West will be headed to North Battleford next week to take part in the 2018 Saskatchewan Winter Games. Team South West is comprised of 197 athletes, coaches, and mission staff as they represent the region in 17 different sports.
The team gathered in Swift Current on Sunday for a pep rally in preparation of the Games. "It is great," said Chef de Mission Anne Weisgerber. "This is the only chance that we have where we have almost all of the athletes together because it is in two halves."
The Games will feature approximately 1,800 athletes with the first half set to begin on Sunday.
Weisgerber took part in her first Saskatchewan Games in 1984 and has been a part of most of the Games since then.
"It is really exciting to see the athletes perform well, meet some new friends, get the whole multi-sport experience. I really like it when you see the wrestling team cheering on the table tennis players and vice versa," said Weisgerber
Cabri's Dallyn Jamieson will don the yellow and gold to represent Team Southwest in the boys singles badminton competition during the first half of the Games.
"Well I want to try and get the win I guess. Just do my best," said Jamieson of his goals in North Battleford.
Jamieson, 18, attended a tryout in Maple Creek where he finished atop the six-player group to grab one of the two boys singles spots. He said he has been getting out on the court once a week since making the team two months ago.
Gull Lake's Kiara Slabik will take the ice in girls figure skating. "I am trying to get a new personal best and have a clean program," said the 14-year-old.
Slabik is a member of Team Saskatchewan and is on the ice five teams a week split between Gull Lake, Swift Current, and Regina. Slabik will be competing with a program that she has been skating with since the spring/summer of last year.
Team South West placed fourth in the Flag Points standings at the 2016 Summer Games.
"Well I'd love to win the Games Flag. For me it's more go out there, have a really good time, and do your best. That's the most important part to me," said Weisgerber. "It is a great experience. Sport is great. Through sports you grow as a person, you grow as a team, you grow as a group. I hope they all can do really well with their sport and as a team and enjoy it."