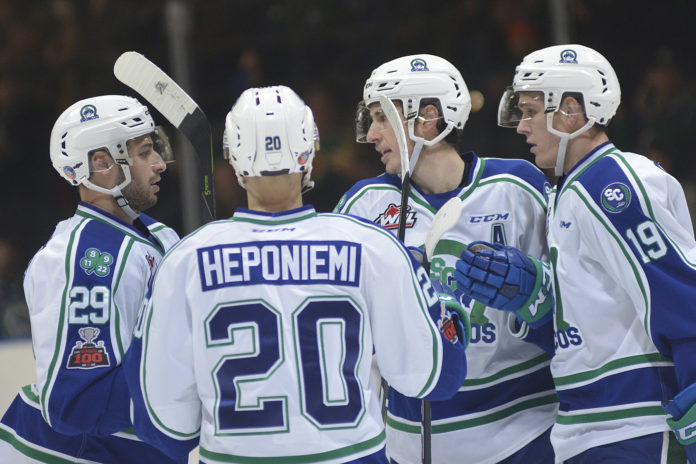 The Swift Current Broncos scored the first four goals on their way to a 5-2 win over the visiting Brandon Wheat Kings Saturday.
Captain Glenn Gawdin celebrated his 300th game with a goal and an assist while leading the Broncos to their third straight win.
"I think we just stuck to our game plan," said Gawdin. "I feel like I say that a lot, but I say that when we win. We know that the last few games [against Brandon] we have had a lead and let them come back and they were both overtime goals. For us this is a possible playoff match-up. At home here we just found a way to win and stuck to our game plan."
Tyler Steenbergen got the Broncos on the board with 51 seconds left in the opening period when he got behind the Brandon defense and deked around Logan Thompson. Gawdin picked up the assist with a perfect pass through the seam for his 100th point of the season.
The Broncos added two goals in the second period. Matteo Gennaro fired home a power play goal and then Beck Malenstyn tipped home a point shot for a 3-0 lead heading into the third period.
Gawdin added to the lead in the third period with his 47th goal of the season while shorthanded, but Jonny Hooker replied for Brandon moments later. Ty Lewis made a game of it when he scored with 8:13 left while shorthanded to cut the lead to 4-2.
Gennaro notched his 35th goal of the season with 1:33 remaining when he scored into the vacated net when Thompson left too early for the bench and Brandon turned the puck over.
"I think today we came out with a good start," said Gennaro. "We really pushed the pace early. We got a goal early and quick. That kind of settled the game and settled us down. I think we were pretty persistent for the rest of the night. We're a good hockey team, so we are capably of winning every night."
Joel Hofer made 22 saves to improve to 7-2-0-1 for the Broncos. Thompson took the loss with 25 saves on 30 shots to fall to 25-17-1-2
Swift Current remains second in the WHL at 39-13-3-1, while Brandon fell to 30-20-3-2.
The Broncos will head to Prince Albert on Sunday to face the Raiders in their third game in as many days.