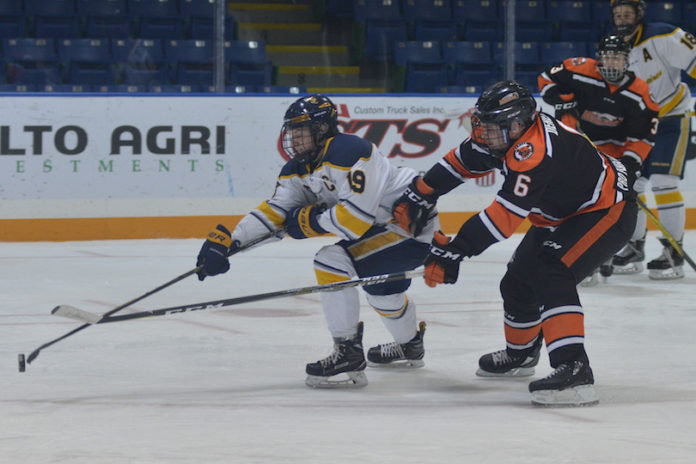 The Swift Current Home Hardware Legionnaires saw their five-game winning streak come to an end when they were upset twice by the visiting Yorkton Maulers over the weekend in the Saskatchewan Midget AAA Hockey League.
Friday, the Legionnaires stretched their winning streak to five games with a 5-1 win over the visiting Beardy's Blackhawks. The Legionnaires scored the final four goals in the third period, including a shorthanded game-winning goal from Mason Strutt, who finished with two goals. Ty Muench added a goal and an assist and Mac Gross assisted on two goals. Reed Jacobson and Hunter Lamb also scored.
Mkyllan Couture, Rin Beny, Chase Gallant, Riley Dekowny, and Owen Ozar all added assists. Cody Levesque picked up the win with 33 saves on 34 shots.
Saturday, the Legionnaires were defeated 6-5 in overtime by the visiting Yorkton Maulers. Lamb led the Legionnaires with a goal and two assists, followed by a goal and an assist from Muench and two assists apiece from Jacobson and Beny.
Rhett Gibson, Dekowny, and Jacob Piller also scored. Gross, Ozar, and Strutt all added assists. Steven Duchscher made 36 saves on 42 shots.
Sunday, the Legionnaires were defeated 3-1 by Yorkton on a lone goal from Piller with assists from Beny and Gross. Levesque took the loss with 31 saves on 33 shots.
The Legionnaires finished the weekend with a 24-11-0-4 record, two points back of Tisdale for fourth spot in the standings.
The Legionnaires are on the road this weekend to visit the Beardys Blackhawks and the Saskatoon Blazers. They also visit the Moose Jaw Generals on Wednesday in their second last game of the regular season.