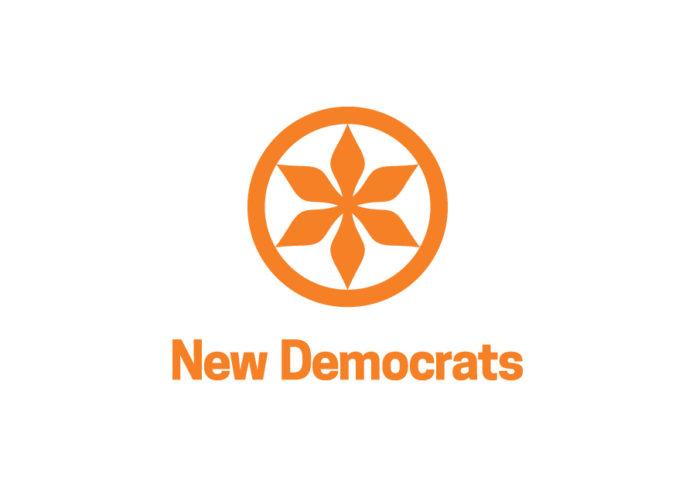 A pair of New Democratic Party candidates are vying for their party nomination in the spring by-election in the Swift Current Constituency.
On Monday afternoon the Swift Current NDP Constituency Association announced that Shaun Hanna and Stefan Rumpel will be seeking the nomination at a meeting this Sunday at the Modern Family Restaurant Banquet Room.
Both Hanna and Rumpel feel the political landscape has changed and NDP are making gains by coming forward with fresh, new ideas.
"The main thing that made me want to get involved is that I see the NDP as pushing out new ideas, and through their leadership campaign trying to bring about a different voice, a different path for Saskatchewan that focusses on really trying to improve the overall quality of life for everyone," Rumpel said.
"I think there's a lot of excitement and new young voices. A lot of the older guard from previous administrations are gone. Most of the members that you see coming in…they're all younger, they're all new. That energy and excitement make me excited to see what they bring."
Hanna noted there is a significant political shift currently underway in Saskatchewan, with the SaskParty selecting a new Premier, the NDP picking a new leader of the opposition, and a new Lieutenant Governor and new Speaker of the House – all occurring without an election.
"It's kind of an exciting time. The entire political landscape of Saskatchewan is about to change, and change very fast," Hanna said.
"The NDP, I think for the first time in a while, has finally become aware of the fact that you can't run an election on complaining. You can't run an election on simply being critical of the other side. You have to put forward a platform, a better solution."
Rumpel, who has been a teacher at the Swift Current Comprehensive High School for the past eight years, noted that cuts to education was one of the main reason which prompted him to seek the NDP nomination.
"For me it was a decision prompted obviously by education, and the fact that in recent years there's been decisions made in government that have caused funding issues and challenges for schools, which unfortunately only can negatively effect students. Because teachers and Divisions work their hardest to minimize those issues, but in the end there comes a point where without funding, students are going to pay the bill later in life."
Rumpel said that key priorities in his campaign include education, healthcare, along with making sure that Swift Current is a great place to live and raise a family.
"In my mind you make education your solid basis. You make it easy for families to exist financially in a community, and then you attract young professionals, young families, in multiple fields. Swift Current is a great place already for young entrepreneurs, it's just in recent years has taken a bit of a hit for that, and I would like to see that stop and then encourage further growth in that area."
"I am also concerned about the possibility, with a move to a large Health Region, we could lose our local voice. And I would want to ensure that that doesn't happen."
Rumpel has been active in the community through a variety of endeavours, including running an award winning extracurricular drama program at SCCHS, appearing on stage in the lead role and co-directing The Cypress Hills Would Never Be The Same, plus serving on a series of boards and committees.
"I feel like I already am known to quite a few members of this community for many of the projects that I've undertaken," he said. "That shows I'm the kind of person who wants to see the best in whatever I do, and I want to be involved in as many things as possible to improve things. So I think my energy, empathy and enthusiasm would be just a great asset to politics."
Hanna also places education as a main focus of his nomination campaign. His parents work in the education system and are looking down the barrel at the cuts, plus his nieces and nephews are in school system and he wonders how the cuts might impact them.
"You look at the cuts to education in the provincial budget, and you look at the mismanagement of the provincial coffers in the downtimes that Saskatchewan is now having," Hanna said, adding that these education cuts also ultimately impact business.
"How is cutting education going to help businesses in five to 10 years, and it just won't," he said. "For those reasons I thought I just can't sit back and complain if I'm not going to also do something."
Hanna noted that a closely watched Swift Current by-election will focus on local issues, but it will also ripple out to the rest of the province.
"The interesting part about this particular by-election, so close to the 2020 general election, is that whatever happens, the results in this riding are going to absolutely set the tone for the general election, the discussions around policies and around platforms for both parties."
Hanna said he is excited by the prospect of the NDP having a strong showing in the spring by-elections.
"This is probably the first time in a generation that the Saskatchewan New Democrats have an opportunity to hold the Swift Current seat. And I do believe that there is a shot there. And if that's the case, I really would like it to go to somebody who's pro-business, and pro-energy sector, and pro human rights, pro minimum wage reform. All of those things are important to me and the values I hold."
Hanna has a Bachelor of Arts and a Master of Arts in English and was employed in the University of Calgary's English department between 2008 and 2010. He returned to Swift Current in 2011 to operate the local Boston Pizza franchise. His entrepreneurial pop-up restaurant Farm + Table won the SCBEX Best Start-up of the Year this past fall.
He believes that whatever is good for the community is good for business, and is disappointed the NDP often get labelled as anti-business. He points out that it was the SaskParty who expanded the PST which had a negative effect for business.
"The imposition of a six per cent PST which has definitely impacted the hospitality and the service industry. Frankly, there needs to be change there."
"The NDP gets a bad rap, for whatever reason, for being somehow now pro-business. And I don't believe that's the case."
Hanna has sat as a director of the Swift Current and District Chamber of Commerce since 2014, he was elected interim president of the Southwest Youth Emergency Shelter Inc. this past year, plus he was instrumental in forming the LGBTQ group Southwest Saskatchewan Pride.
Hanna noted that there is less and less place for putting politics ahead of good ideas for Saskatchewan.
"I think one of the appealing things about myself is that I tend to be very centrist. I'm a very centrist candidate I would say," he said.
"I think that's something that I can bring to the table, not just for typical NDP voters, but also for SaskParty voters who kind of see how the SaskParty without Brad Wall is no longer the SaskParty they voted for."
The January 28 nominating meeting is set for 12:30 p.m. at the Modern Family Restaurant Banquet Room.