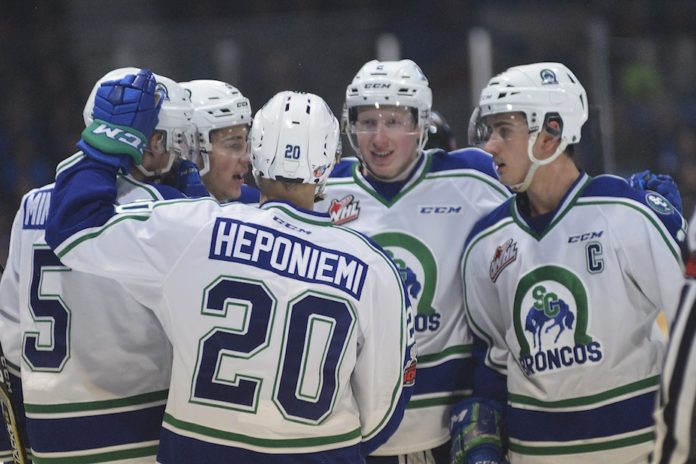 Playing their third game in as many days, a tired Swift Current Broncos team put the game out of reach early in a 5-1 win over the visiting Red Deer Rebels Sunday.
The return of Aleksi Heponiemi from the World Junior Championships ignited the power play in the first period as the Broncos scored three power play goals in as many attempts.
Heponiemi notched the opening goal only 5:14 into his return with a screened shot that went in at even strength. Kristian Reichel quickly replied for Red Deer, but the Broncos soon added three power play goals over a 10:35 span.
Matteo Gennaro continued his torrid scoring with two goals and Artyom Minulin added the next goal for a 4-1 lead after one period. Minulin added a second power play goal in the third period to close the scoring.
"I think the game was pretty similar to last night's," said Gennaro. "I think we came out with a good start, were heavy on the forecheck, created some turnovers, and just got pucks on net. The power play was pretty good tonight as well."
Joel Hofer earned the win with 19 saves to improve to 5-2-0-0. Riley Lamb fell to 1-7-3-1 with 13 saves in the opening period. Ethan Anders worked the final two periods and made 13 saves on 17 shots.
The Broncos improved to 29-10-3-0 with their second straight win and now have points in their last four games. Red Deer, now without a win in eight games, fell to 10-22-7-2.
"It was our third game in two and a half days and I thought we had pretty good energy the first period anyways," said coach Manny Viveiros. "We said we have to stick to our game plan, which we got away from the night before against Regina in the second period. We have to treat this like a road game. We had two tired teams here and if we stay disciplined and stay within our structure then we will have a chance to win. I am very happy because the kids were tired and they did a good job."
Gennaro also had an assist and now has 29 points in 17 games since joining the Broncos, including 10 points in his last four games alone.
Heponiemi played his first game with the Broncos since Dec. 10 and finished with a goal and two assists despite missing most of the second period after taking an errant stick to the face. The 18-year-old native of Finland now has 75 points in only 30 games this season, easily the highest points per game production in the Western Hockey League.
The power play unit finished four-for-six, failing to score only when Heponiemi was injured and on a 17-second opportunity at the end of regulation.
"He makes things real easy for all of us," said Gennaro of Heponiemi. "He has great patience and vision and quarterbacks the power play for us. It is definitely a huge boost for us when he is back in the line-up."
The Broncos now have four days off before visiting the Prince Albert Raiders on Friday.