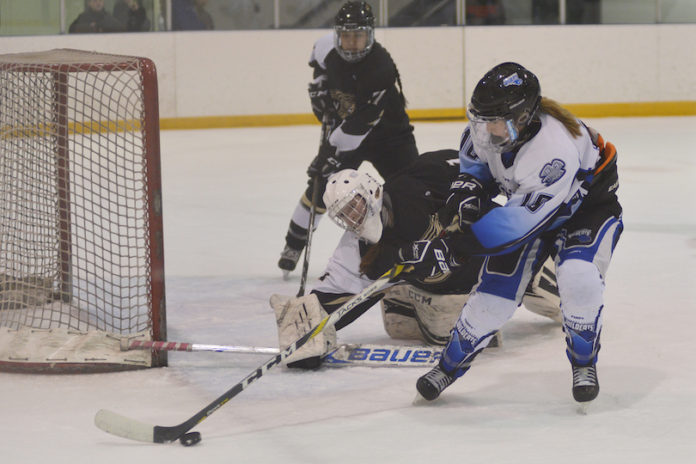 The Swift Current Diamond Energy Wildcats returned to Saskatchewan Female Midget AAA Hockey League action with two blowout wins over the visiting Weyburn Wings over the weekend. The Wildcats reached double digits in both games to improve to 9-6-0-3 on the season.
Saturday, the Wildcats opened 2018 with a double-digit offensive performance when they fired 44 shots on net in a 10-0 drubbing of the Wings. Six different players scored and 10 had points, led by two goals and three assists from Taylor Lind. Baylee Kirwan followed with two goals and one assist while Carissa Hogan and Trista Labarowski also scored twice each.
Sara Kendall and Maddy McCleary each registered a goal and an assist and Toni Theaker picked up a pair of helpers. Tenelle Lind, Crystal Wale, and Brooklyn Colborn all added single assists. Amaya Giraudier made nine saves for her first career SFMAAAHL shutout.
Sunday, the Wildcats allowed the opening goal, but responded with 10 unanswered goals in a 10-1 victory.
Taylor Lind led the Wildcats with three goals and one assist, while Layne Hryhoriw tallied a goal and three assists.
Labarowski added a goal and two assists, while Baylee Kirwan and Colborn each added a goal and an assist and McCleary chipped in two assists.
Tenelle Lind, Kendall, and Hogan also scored, while Brynne Doerksen, Ryleigh White, Madison Garrrett, and Kenedee Klevgaard all added single helpers. Harper Davey earned the win with 14 saves.
The Wildcats will head to Regina this weekend for two important games against the Regina Rebels. The Wildcats finished the weekend only two points behind the Rebels (10-5-0-2) for fourth spot in the eight-team SFMAAAHL.