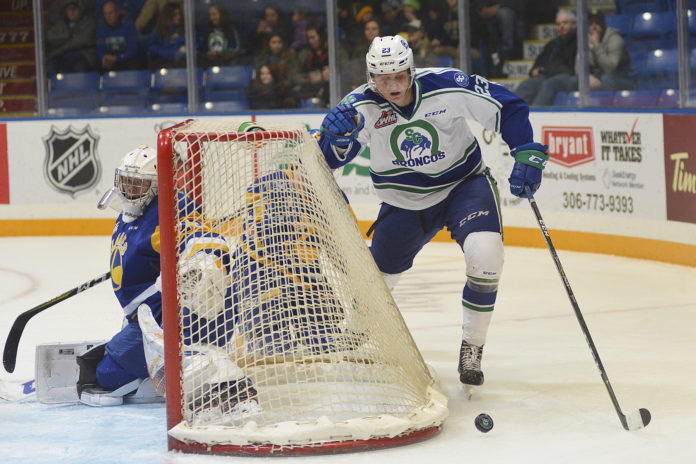 The Swift Current Broncos allowed three third-period goals in a 4-3 loss to the visiting Saskatoon Blades.
One game after allowing a season-high eight goals, the Broncos lost a second straight game when they failed to hold a pair of third-period leads. It was only the Broncos' second regulation loss in 22 attempts when leading after two periods.
The Blades struck early with a power play goal off the stick off Cameron Hebig only 3:04 into regulation. Colby Sissons replied for the Broncos with a one-timer off the face-off for his eighth goal 5:22 later for a 1-1 tie after one period.
Max Patterson knocked home a puck from the slot 5:18 into the middle stanza for a 2-1 Swift Current lead after 40 minutes.
The Blades tied the game 6:03 into the third period when Josh Paterson tipped home a pass off the post and just in.
Beck Malenstyn replied for the Broncos only 22 seconds later when his centering pass deflected in from the high slot past a helpless Nolan Maier.
Paterson tied the game again with a power play goal in a rebound in the crease midway through the period.
The Blades forced a turnover and took the lead for good with 4:35 left in the game on a Braylon Shmyr unassisted goal.
Special teams played a major role in the outcome as the Blades scored twice on six man-advantages. The Broncos were held without a goal on three power play opportunities.
Joel Hofer took the loss with 28 saves on 32 shots to fall to 4-2-0-0. Nolan Maier improved to 10-6-0-1 with 29 saves.
The Broncos remain second in the East Division with a 26-9-2-0, while
Saskatoon improved to 18-17-2-1. The Broncos now lead the season series 4-2 with two games remaining.
The Broncos will be idle Sunday before heading to Saskatoon on New Years Day for an afternoon rematch with the Blades.