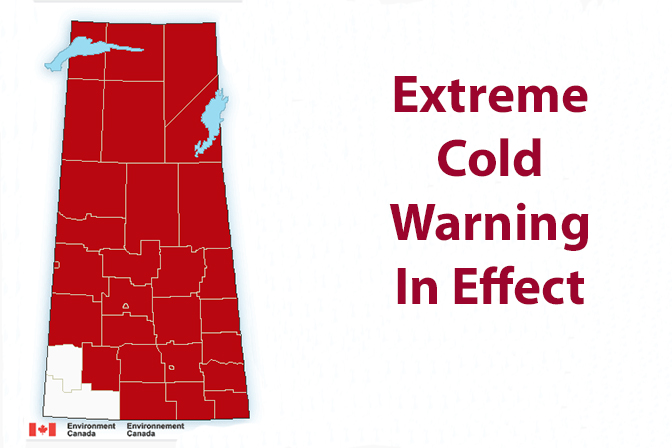 Saskatchewan will bid a chilly farewell to 2017, with Environment Canada extending an Extreme Cold Warning through to January 1.
Extreme windchill values in the -40 to -50 range will occur during the overnight hours tonight and Saturday across southern Saskatchewan, and daytime temperatures on Saturday will only reach the -25 to -30 Celsius levels.
Environment Canada warns that a frigid Arctic high pressure system is responsible for the extreme wind chill values which are forecast for the next two nights.
The advisory was extended to include both the Shaunavon – Maple Creek – Val Marie – Cypress Hills plus the Leader – Gull Lake forecast regions on late Friday afternoon.
The bitter cold is now being forecast to was on January 1, with temperatures beginning the long climb back to season values starting next week.
Environment Canada provided the following cold weather tips:
– Dress warmly. Dress in layers that you can remove if you get too warm. The outer layer should be wind resistant.
– Cover up. Frostbite can develop within minutes on exposed skin, especially with wind chill.
– Keep emergency supplies in your vehicle such as extra blankets and jumper cables.
– If it's too cold for you to stay outside, it's too cold for your pet to stay outside.
– Outdoor workers should take regularly scheduled breaks to warm up.
Extreme cold warnings are issued when very cold temperatures or wind chill creates an elevated risk to health such as frost bite and hypothermia.