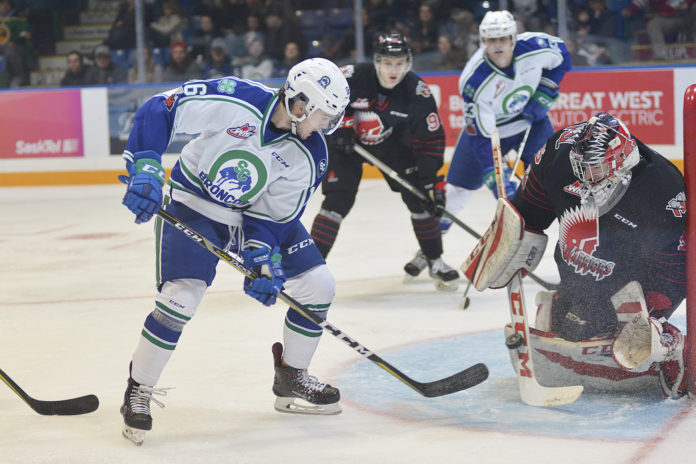 A shorthanded Swift Current Broncos team won their sixth straight game with a stunning 5-4 shootout win over the Moose Jaw Warriors Wednesday.
The Broncos scored two late goals only 28 seconds apart during a four-goal third period and then disposed of the Western Hockey League leading Warriors in the shootout. Logan Flodell helped the Broncos reach the shootout with three breakaway saves in the three-on-three overtime period. He stopped both Warriors in the shootout and Glenn Gawdin and Matteo Gennaro, who had both scored to force overtime, finished the job with shootout goals.
The Warriors took a 2–0 lead with goals 19 seconds apart only 1:33 into the game from Brayden Burke and Tanner Jeannot. Justin Almeida added a power play goal for the Warriors in the second period for a commanding 3-0 lead after outshooting the Broncos 10-4 in the frame.
The Broncos cut into the lead 5:46 into the third period when Max Patterson tipped home a power play goal. 1:37 later Kaden Elder fired home a point shot to make it a one-goal game with his seventh goal of the season.
The Warriors quickly restored the two-goal lead when Almeida added his second of the game only 1:23 later.
Captain Glenn Gawdin gave the Broncos a chance when he shoveled home his 32nd goal with 3:52 left to cut the lead in half again. The Broncos tied the game only 28 seconds later when Gennaro jammed home a rebound after Beck Malenstyn had drove the net for a breakaway chance during his long awaited debut after being acquired from the Calgary Hitmen.
Flodell improved to 22-6-2-0 with 34 saves on 38 shots. Brody Willms took the loss with 23 saves to fall to 20-5-2-1.
The Broncos moved within three points of the Warriors for top spot in the WHL with a 26-7-2-0 record, while Moose Jaw continues to lead the league with a 27-6-2-1 mark.
The two teams will rematch on Thursday back in Moose Jaw for their 18th game against one another in 2017.