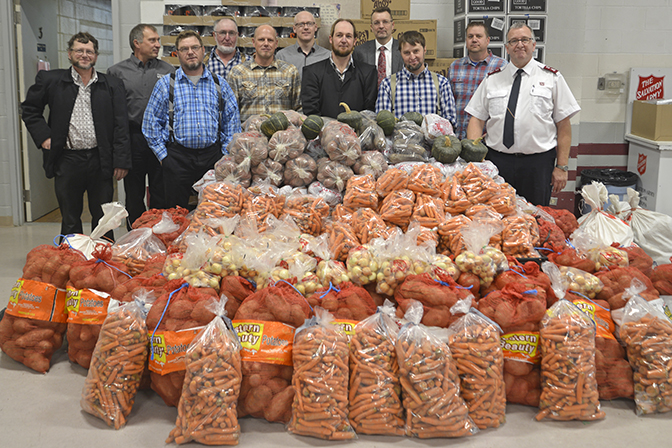 The impact of a two decade long partnership between the Salvation Army and area Hutterian colonies was celebrated during an appreciation luncheon on December 12.
This year marks the 20th year of a food donation drive which has resulted in the delivery of thousands of kilograms of food through the Salvation Army Food Bank and Christmas Hamper program.
"We're really pleased to see an excellent turnout from the colonies because we feel it's so important to say thank you," Swift Current Salvation Army Major Don Grad said while additional tables and chairs were being added for the large crowd.
A Hutterian Brethren/Salvation Army Food Bank Drive was originally organized in 1997, and this annual tradition has grown into one of Swift Current's largest charitable donation events thanks to the Hutterian Brethren across the region. A series of business remain involved in the effort after having originally partnered to encourage the outpouring of generosity. Pattison Agriculture, Pioneer Co-op Agro, Scotiabank, and MNP were all original partners, and they continue to support the initiative through their own donations and volunteer support.
The food drive has also extended into a year long partnership.
"I think it's so important to say thank you to people who help us, and the Hutterite communities help in a big way year round. It's probably in the thousands of pounds of food that they donate all year."
While the community is supportive of the Food Bank through donations of non perishable food items, the food provided by the Hutterian Brethren provides a nutritious boost to the items available at the Food Bank.
"One of our goals is always to provide nutrition," Major Grad said. "It's so nice to have fresh veggies such as carrots or beets or cabbage or potatoes that are able to provide a nutrition balance. It is just so wonderful."
"Our goal is that we want to provide a balanced hamper, whether it's at Christmas or through the year."
Major Grad noted they are beginning the preparation of 283 Christmas hampers which will be delivered this coming week.
He is appreciative of all the generosity shown throughout the community this time of year to make a big impact for those who need support.
"It's the kettles. It's the toys. We are so pleased to be able to share what we have been given. And the hampers that we provide, a family hamper will have probably four boxes full of food, along with 20 pounds of potatoes, two or three dozen eggs, a turkey, a chicken, bread, milk. It's all so much of the generosity which we've been given. And we are so happy to be able to share."