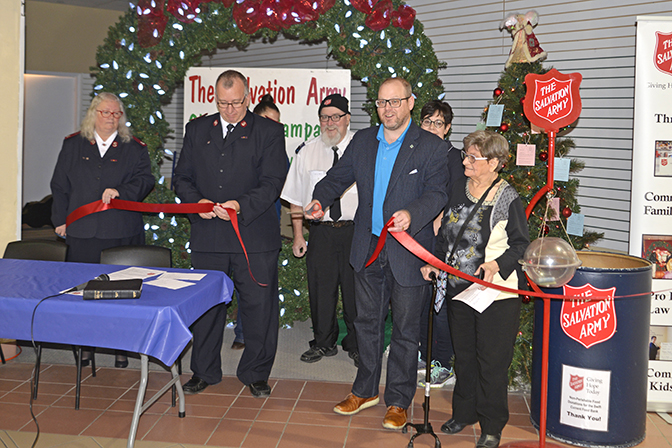 With Christmas Day exactly a month away, the Swift Current Salvation Army has kicked off their annual Christmas Campaign with hopes of raising $215,000 for the coming year.
The Salvation Army launched their 104th annual Christmas campaign in Swift Current earlier this morning, beginning an intensive month long fund-raising effort so they can help meet the needs of Swift Current residents who need a hand during Christmas and throughout the year.
"We're only one month away so it's pretty close and it's exciting," Salvation Army Major Don Grad said of today's launch of the Christmas Kettle campaign and the opening of the Miracle Room in the Swift Current Mall.
"$215,000 is what we basically will need to operated the Food Bank throughout the year, but also our Christmas Hampers and all the things we do at Christmas time. That funds us basically for the whole year."
After raising a local record $249,000 during their 2016 campaign, Major Grad is confident that Swift Current has the generosity to surpass this year's total.
"Last year were were well over our target at $249,000. And we just said 'Thank you Jesus.' And through that we've actually been able to buy two wish list items this year, a walk in freezer and a commercial dishwasher for our kitchen," Major Grad said.
Major Grad continues to be overwhelmed by the support from the community whenever the Salvation Army asks for support.
"I'm just absolutely amazed! This doesn't happen in this degree, or per capita, anywhere else in Canada that I've ever been. And so I'm just overwhelmed. I'm very thankful. And I'm very humbled. We try to be good stewards of what we've been given. And of course we give God the praise for his provision."
People are also willing to generously give in spite of not always seeing the impact their donations.
"We run into lives everyday that are being touched by the Food Bank and by different things we do. Sometimes it is just as simple as a little conversation. Taking 10 minutes to talk to somebody who is just feeling out of sorts. We have a lot of those through the year."
Swift Current Mayor Denis Perrault assisted with the Miracle Room ceremonial ribbon cutting, and he also highlighted the importance of the campaign to the community.
"We as a community we go above and beyond to be able to help those that are less fortunate. And it absolutely warms our heart when we can see that type of generosity," Perrault said.
"We have a great community in Swift Current. People with very charitable hearts that really do go above and beyond every year, and not just at Christmas time but throughout the year for the Salvation Army," he noted. "It's really overwhelming and I'm so proud to have such a successful Salvation Army in Swift Current."
The Salvation Army provides many services in the community in addition to their well publicized Food Bank and Thrift Store. They serve Monday Community Meals, with 80 to 100 people attending this weekly event. Their last meal before Christmas will be on Monday, November 27. They also operate the Alternative Measures Justice Program and host free legal clinics. Additionally, they are involved in chaplaincy work with the Legion, and support and partner with various agencies in the community.
The Christmas Campaign has a variety of ways people can make a difference.
The Angel Tree in the Miracle Room has tags which provide a chance to provide a gift which will go directly to a child. The tags feature a child's age and gender, along with their 'wish' for Christmas. People are invited to take a tag and then shop for that child and return the gifts back to the Miracle Room.
Christmas Kettles will again be set up throughout Swift Current, with locations at the Wheatland Mall, Swift Current Mall (Miracle Room/Safeway), WalMart, Pharmasave, and the Swift Current Liquor Store (starting on December 1). Volunteers are needed to help staff the kettles during the coming weeks. Individuals interested in volunteering can contact the Salvation Army office at 306-778-0515 or their Kettle phone number at 306-741-1714.
Other upcoming events including the annual Teddy Bear toss at the Swift Current Broncos game on December 2, the annual Hutterite Appreciation Day on Tuesday, December 12, plus the CP Holiday Train on Sunday, December 17.
Christmas Hamper applications are being taken this coming week from Monday, November 27 to Thursday, November 30, and again from Monday, December 4 to Thursday, December 7. Application hours are from 10 a.m. to noon and 1 p.m. to 3 p.m. at the Salvation Army church hall at 780 1st Ave N.W. This year's Christmas food hampers will be picked and distributed on December 15 to 20.
The Salvation Army will also be serving their annual Community Christmas Dinner at Christmas Day starting at 2 p.m. This dinner is a joint effort involving many local agencies who support the organization and logistics of this meal.