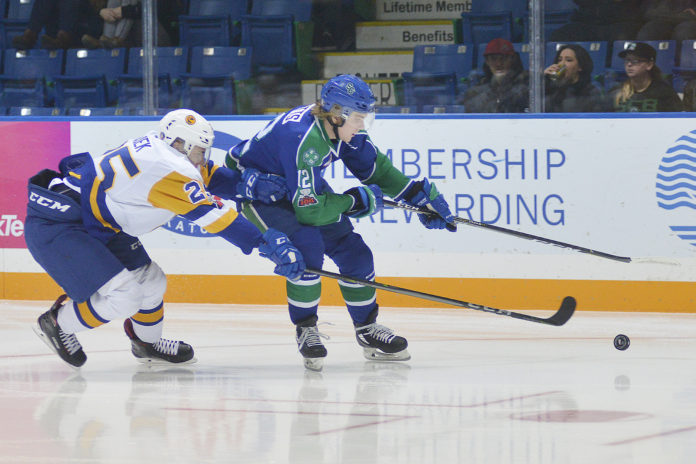 Despite having one of the best records in the Western Hockey League, the Swift Current Broncos made a deal Saturday to acquire more scoring behind their dominant top line.
The Broncos sent six pieces to the Calgary Hitmen in exchange for forwards Matteo Gennaro and Beck Malenstyn and a draft pick.
Headed to Calgary are defenseman Dom Schmiemann and forwards Riley Stotts and Conner Chaulk, along with prospect Ethan Hein, the rights to Josh Prokop, and a second round pick in the 2018 WHL Bantam Draft.
Gennaro is an overage forward with 25 points in 22 games this season. Malenstyn, 19, has three assists in four games this season, but is expected to be back from injury shortly.
Gennaro led the Hitmen with 25 points, 14 goals, seven power play goals, and two shorthanded goals this season. The St. Albert native was a seventh round pick of the Winnipeg Jets in 2015. He scored 43 goals last season and has 194 points in 293 regular season WHL games.
Malenstyn is a 6'2'' forward from Delta, BC who was a fifth round pick of the Washington Capitals. He scored 32 goals in 70 games last season and has 99 points in 200 regular season games with the Hitmen.
"We feel we really added to our hockey club and this trade is a good fit for both teams," said Head Coach and Director of Player Personnel Manny Viveiros in a team issued release. "Gennaro and Malenstyn are established players and we are excited about getting these kids here."
Chaulk, an overage forward, had 11 points in 21 games this season. Stotts, the 10th overall pick in the 2015 WHL Bantam Draft, had three points in 22 games this season. Schmiemann, a former first round pick as well, had three points and 17 penalty minutes in 21 games this season, his second with the Broncos.
The Broncos host the Brandon Wheat Kings tonight.