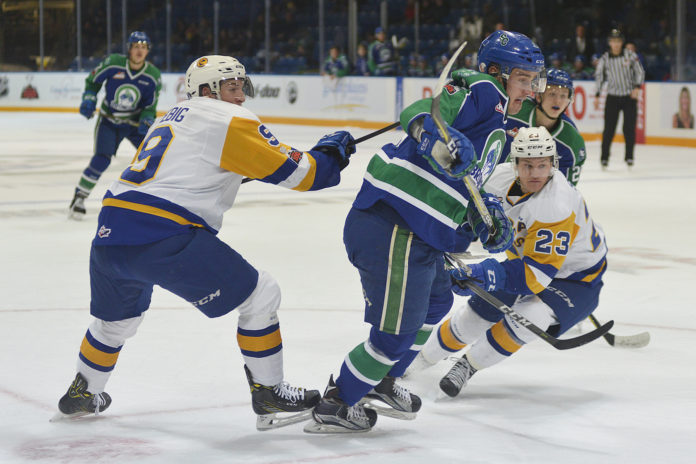 The Swift Current Broncos scored three unanswered third-period goals to defeat the Saskatoon Blades 5-4 in a shootout Wednesday.
The Broncos trailed 4-1 after two periods before captain Glenn Gawdin scored twice and Artyom Minulin tied the game with 2:09 remaining in regulation.
Each team scored once on three opportunities to open the shootout before rookie Logan Barlage notched the shootout winner. Logan Flodell stopped three of four shootout attempts against his former team to earn the win.
Rookie Joel Hofer had made the start but lasted only 22:37 after allowing four goals on 15 shots. Flodell stopped all 17 shots he faced over the final 34:58 to improve to 14-4-1-0.
The Blades had jumped ahead with first-period goals from Caleb Fantillo, Michael Farren, and Cameron Hebig. Conner Chaulk replied for the Broncos in the first period with his third goal in the past four games.
Alec Zawatzky scored the only goal of the second period to stretch the lead to 4-1. Nolan Maier fell to 0-2-0-1 with 33 saves on 37 shots before allowing goals from Aleksi Heponiemi and Barlage in the shootout.
Heponiemi finished with three assists and leads the WHL with 57 points and 41 assists in 22 games played.
The Broncos improved to 16-5-1-0, while Saskatoon improved to 8-12-2-1.
The Broncos are on the road Friday to visit the Prince Albert Raiders.