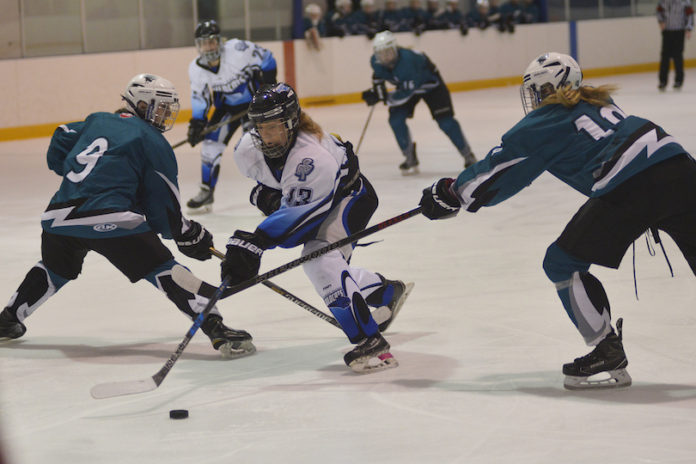 The Swift Current Diamond Energy Wildcats scored 13 goals in two wins over the visiting Battlefords Sharks over the weekend.
Saturday, the Wildcats won 6-3, led by three goals and two assists from Taylor Lind. Carissa Hogan and Trista Labarowski each added a goal and two assists, while Layne Hryhoriw registered a goal and an assist.
Ryleigh White, Toni Theaker, Brooklyn Colborn, and Taylor Kirwan all added assists. Amaya Giraudier earned the win with 17 saves for the Wildcats.
Ali Aitken scored twice for the Sharks, while Kate Zemlak added a single and Haylie Biever made 39 saves in goal.
Sunday, the Wildcats fell behind early but scored seven unanswered goals over the final 27:08 to defeat the Sharks 7-1.
Lind led the attack with two goals and two assists, Hryhoriw added two goals and one assist, and Sara Kendall also scored twice. Brynne Doerksen and Kenedee Klevgaard each picked up a pair of assists, while Carissa Hogan also scored. Crystal Wale, Colborn, Labarowski, Baylee Kirwan, and Taylor Kirwan all added single helpers. Harper Davey earned the win with 17 saves on 18 shots.
"We just got our feet moving halfway through the second period," explained captain Taylor Kirwan. "We got some power plays to help shift the momentum in our favour. Our team this year we just find a way to win and that's what we did today."
"We started off not very good," agreed Kendall. "But then as the second period went on we started to get the momentum going our way. We started making our passes a little better and we started to be more confident in ourselves and started to communicate and just be a team."
"My team really helped me out," said Kendall after scoring her third and fourth goals of her rookie season. "I got a lot of good passes from Taylor Lind and the power play was really good. I just kind of had to put it in."
The Wildcats finished the weekend in third spot in the Saskatchewan Female Midget AAA Hockey League with a 6-6-0-2 record, while Battlefords dropped to 3-11-0-0.
The Wildcats are now idle from league action until Dec. 16-17.