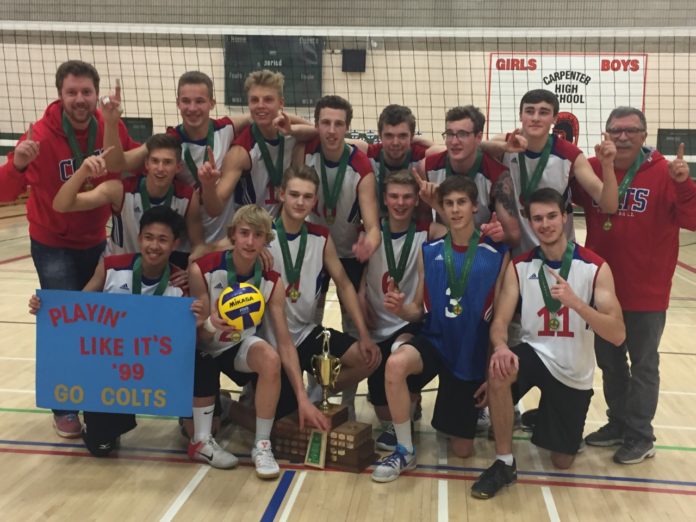 The Swift Current Comp. Colts won seven straight matches to win their first provincial volleyball title since 1999 on Saturday.
"It was all good when we won Provincials, everyone just jumped together. It was just a goal that we have all worked so hard towards throughout the year and to achieve it was just an amazing feeling," explained grade 12 Dayton Patzer.
"Honestly it has been a long time in the making. We've been together for almost two years fully playing. To finally get to the point where we have won provincials is amazing," added grade 12 Quinn Hodges.
The Colts, coached by Dan Andrie and Brad Hennenfent, defeated Saskatoon Holy Cross 25-20 and 25-19 in the 5A SHSAA Provincial Championship gold medal match in Meadow Lake to end an 18-year drought.
"I didn't know what to expect if I were ever to win a provincial championship. It was beyond words. It was a rush of happiness and it's a testament to the hard work that we put in. It is just pure joy. It was a great moment for us," explained Andrie.
The Colts lost their opening set at Provincials before winning the next 14 to capture gold. They opened the weekend with a three-set win over Balgonie Greenall. They lost 21-25 before rebounding with 25-17 and 15-10 wins. The Colts rounded out the day with straight sets wins over Regina Campbell and Saskatoon St. Joseph. The Colts clinched top spot in their pool with a win over Prince Albert St. Mary in straight sets (25-23, 25-23) on Saturday morning.
The Colts opened the playoffs against the host Meadow Lake Spartans and won 25-19 and 27-25 to earn a chance to play for a medal. They defeated Balgonie again in the semi-final 25-19 and 25-21 to reach the championship match.
The gold medal marked the second straight provincial medal for the Colts after they won bronze in Regina in 2016. The Colts now have three provincial titles in school history after gold medals in 1998 and 1999. It is also the second straight provincial volleyball title for the school after the Ardens won the 5A Girl's championship in 2016.
Both Hodges and Patzer agreed that their experience at Provincials last season proved beneficial this time around.
"I think it helped a lot. Throughout the playoffs and medal games there was a lot of fans that came out to watch. The whole atmosphere, how loud it was, and the cheering, having that experience just helped calm the nerves and realize it's just volleyball and we have to do our thing," said Patzer.
The Colts were thrown a bit of a curveball in the final when they battled the Holy Cross Crusaders, a team they had not faced all season.
"I think they were really confident going into the final. We hadn't played Holy Cross all year. I think they were excited to play a new team. They didn't collapse when the pressure hit them, which was great to see. They played through all the points that Holy Cross scored, all the runs that they got against us. We played through it and played really good ball," said Andrie.
The Colts finished the season with 50 match wins and nine losses. They won tournaments at the University of Saskatchewan, Prince Albert, Moose Jaw, Regina LeBoldus, and Regionals in Swift Current on their way to the provincial championship. They will graduate seven players with six eligible to return next season.
See the November 23 edition of the Southwest Booster for the complete story