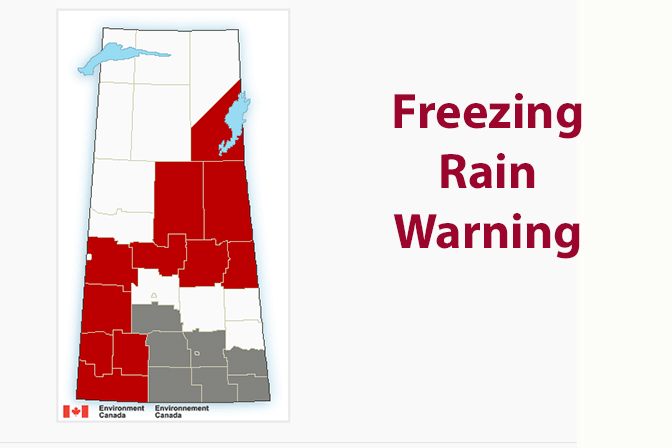 A Freezing Rain Warning has been issued for portions of the Southwest by Environment Canada.
Earlier this morning, Environment Canada issued a special weather statement for all of Southern Saskatchewan warning of the potential of freezing rain developing on Thursday.
The warning remains in effect for the Swift Current – Herbert – Cabri – Kyle – Lucky Lake; plus the Leader – Gull Lake forecast regions. A warning for the the Shaunavon – Maple Creek – Val Marie – Cypress Hills was cancelled around 9 a.m.
An additional eight forecast regions are also impacted by the warning. The freezing rain hazard should end later this morning.
The development of a low pressure system in southern Alberta this morning is expected to intensify as the system tracks northeastward. Environment Canada notes that the warm air accompanying the system, when combined with sub-zero surface temperatures, is creating prime condition for freezing rain. There have already been reports of freezing rain in Alberta.
Environment Canada reminds that roads, walkways and parking lots may become icy and slippery.
Freezing rain warnings are issued when rain falling in sub-zero temperatures creates ice build-up and icy surfaces.
The public is advised to monitor alerts and forecasts issued by Environment Canada.