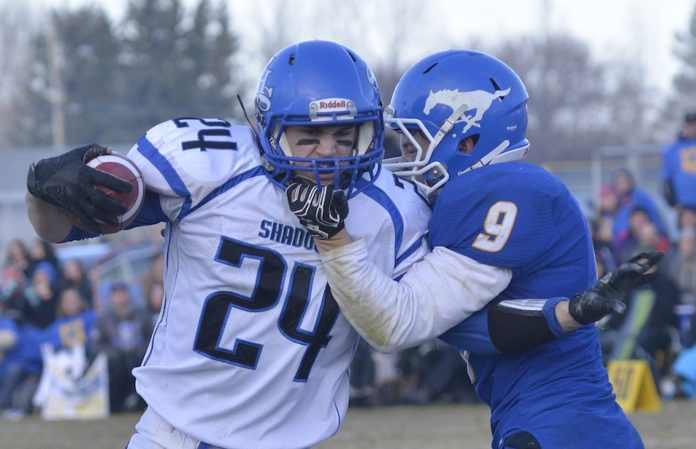 It was like déjà vu all over again for the host Shaunavon Shadows Saturday when they defeated the Indian Head Broncs 24-7 to win their second SHSAA2A 9-Man Football provincial title in the past three seasons.
"It's just awesome," said coach Garret Glasrud. "At the start of the year we had a goal in mind. After the first couple of games we weren't too sure what was going to happen, but it played into our favor as the season went on. It's just an awesome feeling to be at home in front of our crowd."
"I am really happy, glad to do it in front of our fans," added grade 12 quarterback Nixon Voll. "But it's really sad thinking it's the last year, last time playing on this field, yeah never going to be here again."
"I'm pretty psyched. We got down in the first half but quickly came back. It was a good game, a good team effort," said grade 11 Ryker Larson.
The Shadows overcame a turnover filled opening half to score 24 unanswered points in the win. The game got off to an ominous start when the Shadows appeared ready to open the scoring but fumbled at the one-yard line. Indian Head quickly flipped the field and scored on a short run for a 7-0 lead. The Shadows continued to turn the ball over, but their defense held them in the game for a 7-0 deficit at halftime.
The Shadows were a completely different team in the second half and quickly tied the game with a rugged nine-yard touchdown run from Larson.
Lane Pritchard rumbled into the end zone from eight yards out early in the fourth quarter and the Shadows defense continued to create turnovers until Voll scampered 35 yards into the end zone. Voll continued to display his versatility with a 24-yard field goal to help seal the win.
The game really was the tale of two different halves.
"The second half was kind of a different feeling there. At halftime we just talked about the nerves. A lot of guys were nervous. They had played in 2015, but not a lot of them had saw the field at that point, so they were just a little bit excited. We just calmed ourselves down and went to work," said Glasrud.
"We just really said how we can't get down on ourselves and we just have to keep our heads high. We thought we were a better team and we thought we just had to put more effort in," said Larson.
"We figured that they were dropping back really deep, taking our deep pass away," noted Voll. "So we just started running away from one of their best lineman and just kept chugging it through and getting short yards every time, getting the first downs, and kept doing that until we got all the way down."
The one constant for the Shadows was an incredible effort from their defense, including many players who contributed on both sides of the ball.
"It was really hard, we worked hard. A lot of guys had to play both ways," said Voll.
"The defense was awesome. They played huge. That pressure they applied just broke down the team a little bit and just kept control of the game and the momentum," said Glasrud.
"At the start of the season our defense was really poor," admitted Larson. "We were missing a couple key players and a couple people weren't performing as well as they should. Really we just started to get better as a team to have the contain on the outsides and have everybody in on those tackles."
See the complete story in the Nov. 16 edition of the Southwest Booster