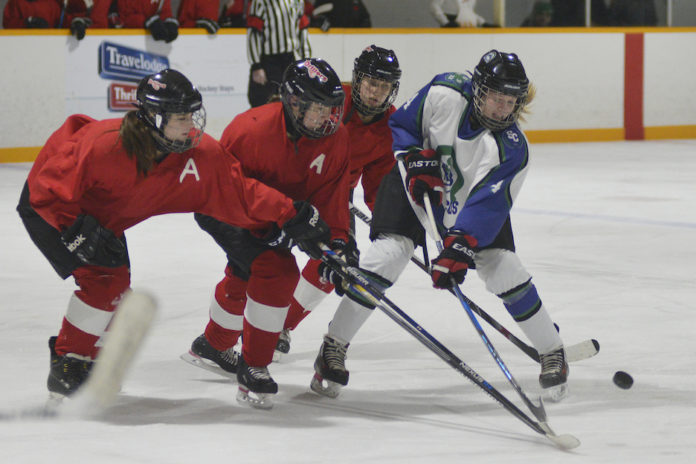 The Swift Current Full Line Ag Broncos earned three of a possible four points against the Weyburn Drillers in the South Saskatchewan Female Midget AA Hockey League over the weekend.
Friday, the Broncos got goals from six different skaters in a 6-1 win. Jannae Carlson and Chelsea Wilson led the Broncos with a goal and assist each. Bailey Wilson, Kalea Sauder, Jenny Hope, and Carmen Hildebrandt also scored, while Jenna Olfert, Josie Calwell, Breanna Tourigny, and Kamryn Johnson all added assists. Allison Wall earned the win with 18 saves.
Saturday, the two teams skated to a 2-2 draw in the rematch. Taylor Kohls led the Broncos with a goal and an assist. Kayla Keith also scored, while Lexi Cote and Carmen Hildebrandt added assist. Chloe Hess made 25 saves on 27 shots in goal.
The Broncos finished the weekend with a 3-3-4 record, in second spot in the eight-team league.
The Broncos are in Caronport to visit the Moose Jaw Mavericks on Thursday. They also host the Notre Dame Hounds on Wednesday at 8 p.m. at Fairview East Arena.