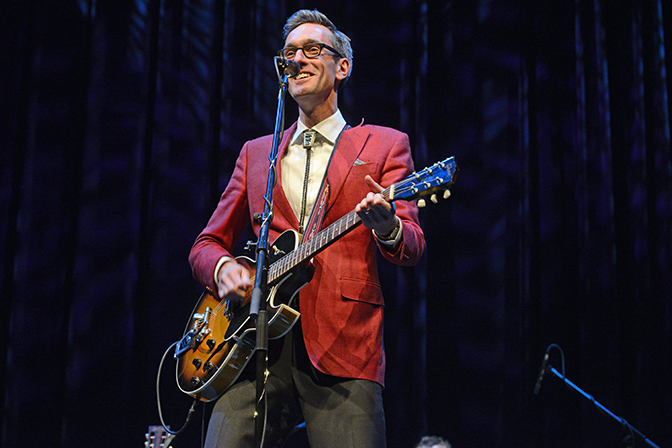 A dash of bluegrass, a little bit of doo-wop, a smattering of love songs, combined with lots of harmonizing and a full plate of rock and roll was the musical fare served up by David Myles on Wednesday night.
Myles delivered the third performance in the 2017-2018 Stars For Saskatchewan concert series on November 1, with the Juno Award winning singer/songwriter sharing a new flavour of material for the audience.
He dug heavily into his new album Real Love, playing 10 of the 13 tracks from his latest release which features his love of an early rock and roll sound. His CD Real Love was released on September 15, so fittingly just under half of his show featured this new sound. His Swift Current stop was part of a 15-community tour which takes him from Vancouver to Halifax.
From the stage Myles joked that he was moving backwards musically during his career, staring as a modern folk singer and now rocking out with a vintage 50s rock sound.
The material from Real Love pays tribute to some of Myles' vintage influences like Jim Reeves, Don Gibson, and Roger Miller. The songs are sprinkled with country, a bit of rockabilly, plus his witty and creative writing style.
Myles was backed by his familiar traveling mates Alan Jeffries on guitar and bass player Kyle Cunjak, plus drummer Joshua Van Tassel. The vocal trio of Myles, Jeffries and Cunjak  took the opportunity to share their tight harmonies during a series of acoustic and a few acapella tunes, opening the second half of the show with five unplugged songs. They capped off this unplugged set with a bluegrass version of It Don't Matter, a song produced by Classified which was nominated Song of the Year for the 2017 East Coast Music Awards.
The evening also featured Myles covering material from five of his other albums.
They wrapped up the night with a pair of unplugged encore songs, a sweetly harmonized version of I Will Love You, and the show ending smile generating song When It Comes My Turn.
Set List
November 1
Living Sky Casino, Event Centre
SET ONE
Look At Me
Cry, Cry, Cry
Don't Drive Through
Simple Pleasures
Knock Out
Change My Mind
If U Want Tonight
Sweet Dreams
So Blind
Everybody Knows
SECOND SET
Dreaming
A New Friend
I Wouldn't Dance
Easy
It Don't Matter
Stupid
Need A Break
Turn Time Off
Real Love
Night & Day (Real Love)
ENCORE
I Will Love You
When It Comes My Turn