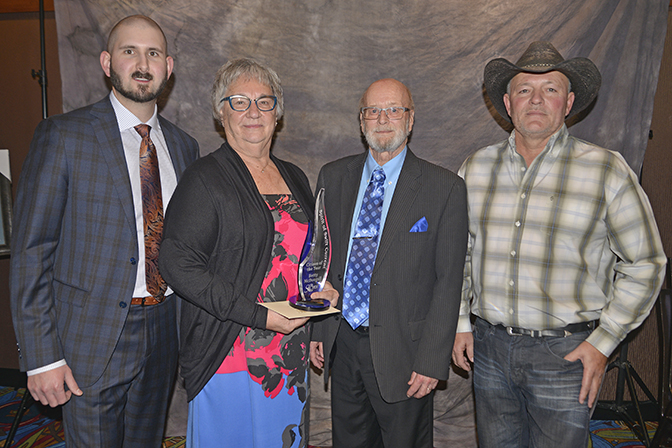 The spotlight shone brightly on 10 winners during the Spirit of Swift Current Business Excellence Awards on Friday night.
The Swift Current and District Chamber of Commerce attracted a capacity crowd for the 19th edition of the SCBEX at the Living Sky Casino to recognize the winners in nine categories.
Innovation Credit Union was a double SCBEX winner, capturing both the Large Business of the Year along with being inducted into the SCBEX Hall of Fame along with Dickson Agencies.
Both of Swift Current's golf courses earned Spirit of Swift Current recognition. The Chinook Golf Course was saluted with the Employer of Persons With Disabilities SCBEX, while the Elmwood Golf Club took home the Medium Business SCBEX.
Elmwood Golf and Country Club General Manager Sheldon Reinhart admitted that being singled out for the award was a big honour.
"It's great to know that the community thinks that you've got a great business, and we're very excited with what we're doing at Elmwood. We've got great staff. We're going to have a world class golf resort.
Elmwood has been undergoing extensive renovations during a $2.6 million course upgrade which started in 2014, and the course will be fully playable next year.
"We just can't emphasize enough how much it's been good to deal with the City of Swift Current and in the relationship that we've had, and to create Cypress Point. We're very excited. It's been four trying years. We've had a golf course thats kind of been in a little bit of a shambles, and lots of Par 3's and stuff. But the members and the City, and everybody moving forward for the next 40 years. It's going to be very exciting to have a world class golf course."
Reinhart added that it is a rare opportunity to complete a major improvement project and course redesign like the one Elmwood has undertaken.
"You talk to many Golf Pros or many General Managers, and in their lifetime they never, ever get to go through a project like that. And to have the experience to start right from the beginning and get through the entire thing. I'm very excited that it'll be done next year, and we're going to be playing the final golf course next season. And our membership and everybody should be very excited about what we've done."
He agreed the award also signifies the close connection Elmwood has with the business community.
"We're a golf course that hosts a lot of company functions, we've got a lot of corporate members. We're just very excited they like what we're doing and like the way the golf course is going, and the direction of the golf course. And we're very happy with that."
The evening also handed out the Start-Up/New Business Award to Farm + Table, Bre's Boutique won the Small Business Award, the Swift Current 57s took home the Not-For-Profit Award, and Black Bridge Brewery earned the Member Business of the Year which was announced back in September.
The Spirit of Swift Current added a Citizen of the Year category this year, and Betty McDougall was the inaugural winner of this prestigious honour.
"To be one of the seven even initially to be considered to be nominated was just such an honour because there's so many people that do so much for our community," McDougall admitted minutes after winning the award. "I'm sure it was a really tough decision for the board to make because there were people (on the list) that contributed so much."
McDougall retired as the Executive Director of the Southwest Youth Emergency Shelter this past summer, wrapping up a long association of working with programs and agencies which supported children and youth. Her tireless volunteers efforts previously earn her the Saskatchewan Volunteer Medal in 2013 plus the Queen Elizabeth II Diamond Jubilee Medal in 2012.
She said she had two focus areas over all these years.
"Volunteering. That's where my heart is for sure. And I think kids. Whether it was young people, or the youth that would be coming to Dorie's House."
"I had said one time that it was really ironic because my background was education, so I was trying to be a teacher. And my path has really gone away from the teaching, but has always stayed involved in children and youth. So that has certainly been my heart."
"And I think the other piece to it is seeing where there's a gap, and then getting together with like minded people and say 'lets do something about this. Let's not just sit back.'"
McDougall had the honour of being the guest speaker at the SCCHS Graduation ceremony back in June. And after outlining some future advice for those students during her speech, she had a passionate answer to the question of what advice she would give a room full of business professionals like those at the SCBEX Awards.
"I think the advice is be involved. Get involved. Do what you can. I really, firmly believe that everyone has the duty to contribute in whatever way they can. There are lots of different ways we all can contribute. We certainly see that in all the people who have been nominated. All those businesses are contributing to community, so I would just encourage people to keep on doing this. There's so much satisfaction from just doing that, and hopefully leaving the world a better place."
Karla Wiens, CEO of the Swift Current and District Chamber of Commerce, said this year's finalists and winners are indicative of the quality of Swift Current's businesses.
"It's most, most definitely an impressive list of nominees, finalists and award winners," Wiens said. "And I think at the end of the night when Betty (McDougall) won Citizen of the Year, to see a standing ovation of 250 people recognizing her tireless volunteer efforts, that was astounding."
Wiens said the evening was designed to properly honour the field of nominees and eventual winners.
"It's one of our signature events. The nominees, the finalists tonight, and the winners have all be recognized by their peers, their customers. It's such a wonderful evening. And celebrating people, it's always just such a warm hearted thing to do."
This year's awards were also the first time the Chamber utilized a new nomination and selection process. There was an open nomination process for everyone in the community to contribute nominees, and the previous year's winners had a chance to weigh in to help nominate the finalists. The winners were voted on by the Chamber's board of directors in a secret ballot.
"I think it's a nice touch. And it adds credibility because they're not discussing it."
A full list of winners, finalists, and category nominees is as follows:
Start-up/New Business of the Year
(sponsored by Innovation Credit Union)
WINNER: Farm + Table.
FINALISTS: Top Gun Mechanical Ltd., Ember's Hair Design.
NOMINEES: Duracon Concrete, Domino's Pizza.
Small Business of the Year
(sponsored by MNP LLP)
WINNER: Bre's Boutique.
FINALISTS: Black Bridge Brewery, Sentiments Home & Gift.
NOMINEES:
Carlson Roofing & Construction, Anchor Marine, A&R Waterwise, Chinook Refrigeration, Shaw's Electrical, MacMor Industries, Snowstreaker Media.
Medium Business of the Year
(sponsored by 3S Enterprises Inc.)
WINNER: Elmwood Golf Club.
FINALISTS: RE/MAX of Swift Current, The Bentley by Revera.
NOMINEES: Regier Honda, Alpine Dental Clinic, Bridal Builders, Anchor Dental Group, Voth's Brandsource, Knight Nissan.
Large Business of the Year
(sponsored by SaskTel)
WINNER: Innovation Credit Union.
FINALISTS: Standard Motors, Pioneer Co-operative Ltd.
NOMINEES: Living Sky Casino, Redhead Equipment, Mercator Financial, Stark & Marsh CPA LLP, Robertson Family Group, Anderson & Company Law Firm, Len's Plumbing & Heating.
Not-For-Profit Business of the Year
(sponsored by YQR Regina International Airport)
WINNER: Swift Current 57s.
FINALISTS: Saskatchewan Abilities Council; Southwest Cultural Development Group (Lyric Theatre).
NOMINEES: Cypress Hills Destination Area, Southwest Newcomer Welcome Centre.
Employer of Persons with Disabilities
(sponsored by Partners in Employment, Sask Abilities)
WINNER: Chinook Golf Course.
FINALISTS/NOMINEES: Super 8 Motel Swift Current, Pioneer Co-operative Ltd.
Citizen of the Year
(sponsored by Southwest Community Futures and Whiskey Jack Creek Construction)
WINNER: Betty McDougall
FINALISTS: Shann Gowan and Charmaine Westbury.
NOMINEES: Bill Lee, Heather Christie, Brad Wall, Cindy Lowe.
Hall of Fame Business
(sponsored by City of Swift Current and the RM of Swift Current #137)
Dickson Agencies
Innovation Credit Union
Member Business of the Year
(sponsored by the Swift Current and District Chamber of Commerce)
Black Bridge Brewery